Hungary to Romania Bond Bulls Run With Belka's Rate Cut
Maciej Onoszko and Marton Eder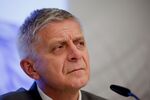 Bond bulls in Hungary and Romania are taking their cue from Poland's surprise interest-rate cut, betting borrowing costs across the region have room to decline.
Hungarian 10-year yields slid the most in a year last week, with yields on similar Romanian securities recording the biggest drop in seven weeks. Polish central bank Governor Marek Belka reduced the benchmark by twice the amount analysts' predicted on Oct. 8, slicing it 50 basis points to a record 2 percent.
Investors may be preparing for central banks in the region to respond as the economies of post-communist European Union nations sputter amid a euro-region slump and trade disruptions with Russia because of the crisis in Ukraine. While Hungary has said its cycle of rate cuts has concluded, Romania will reassess its stance on borrowing costs following the move by Poland, deputy central bank Governor Bogdan Olteanu said Oct. 9.
"There's been a shift in market sentiment and everybody's back to cutting," Daniel Bebesy, a money manager at Budapest Fund Management, who helps oversee $2 billion in assets, said by phone Oct. 10. "Hungary had previously jumped ahead in cutting rates. What we used to see as a risky policy may now be viewed as a more proactive stance compared with regional peers."
Hungary's bonds returned 2.6 percent in dollar terms this month, the third-best performance among 31 countries in the Bloomberg Emerging Market Local Sovereign Index. Poland, with a 0.9 percent gain, is ninth and Romania, at 0.7 percent, is 12th.
'Considerable Symmetry'
There is "considerable symmetry" between business and inflation cycles in the region's economies, which gives Hungarian and Romanian bonds "room to catch up," Koon Chow, the London-based head of emerging-markets strategy at Barclays Plc, wrote in a report Oct. 9, recommending buying forint bonds maturing in 2018, 2022 and 2023 and leu bonds due 2017 and 2023.
Poland has $236 billion of outstanding sovereign debt, according to data compiled by Bloomberg, the most in eastern Europe and 43 percent more than the $165 billion total for Hungary and Romania combined.
Industrial output in Poland and Hungary declined year on year in August, reflecting the steepest drop in German manufacturing since January 2009, when the euro area was sliding into its debt crisis. Consumer-price growth in the two central European economies fell below zero, with Hungary's inflation dropping last month to the least since the 1960s.
Poland's monetary-policy reaction to the downturn brought its key interest rate below Hungary's benchmark of 2.1 percent for the first time since May. Hungary may need to keep the rate on hold through 2015, central bank Deputy Governor Adam Balog was quoted as saying by MTI news service today. Romania cut its main rate 25 basis points to a record 3 percent this month.
'Catch Up'
While Poland's peers can't disregard its "aggressive" easing, the cut in borrowing costs was more important for zloty government bonds, according to Lukasz Witkowski, who helps manage 15.9 billion zloty ($4.8 billion) in assets at Warsaw-based mutual fund PKO TFI SA.
"The cut has de facto allowed Poland to catch up with the level Hungary was already at," he said by e-mail Oct. 10, adding that Romania "probably has space" for lower rates.
The yield on Hungary's 10-year government bonds slumped 40 basis points last week to 4.25 percent, the biggest weekly decline since September 2013, while that on Romanian securities fell 15 basis points. The yield on similar Polish debt tumbled 29 basis points, the most since July, to a record 2.75 percent.
Hungary's forint strengthened 1.5 percent against the euro last week, the best performance among 24 emerging-market currencies tracked by Bloomberg, and traded little changed at 305.52 in Budapest today. The leu gained 0.1 percent to 4.4014 per euro, while the zloty was steady at 4.1901.
"The Polish market is usually a proxy for the region," Stephan Imre, a Vienna-based economist at Raiffeisen Bank International AG, said by phone Oct. 10. "We don't think Hungary will cut rates, but speculation regarding the resumption of the easing cycle will drive yields lower."
Before it's here, it's on the Bloomberg Terminal.
LEARN MORE