Face/Off Cited by Mayor as UKIP Push Spurs Immigration Focus
Craig Stirling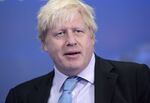 Conservative and Labour politicians vaunted policies to stem immigration in a bid to halt the U.K. Independence Party after it won its first elected seat in Parliament.
With a Mail on Sunday poll showing the anti-European Union movement has the support of 25 percent of voters, its new lawmaker Douglas Carswell sought to capitalize on his success last week in the Clacton district as another election looms in southeast England. The Conservative defector told the BBC's Andrew Marr show yesterday that "I think we can do it" again.
"There wasn't very much frankly that he said that I could disagree with," Conservative Mayor of London Boris Johnson told Marr afterward as he spoke on immigration. He said the similarity of Carswell's views to his own reminded him of "Face/Off," the 1997 film by John Woo. "The Nicholas Cage guy is fighting a guy who looks like himself, a doppelganger."
UKIP's milestone and another special election last week where it almost beat Labour have left both Labour and Prime Minister David Cameron's Conservatives vulnerable to needing coalitions after the May general election. Both parties are trying to regain the initiative with policies seen to be a priority among people supporting UKIP.
Political Force
The arrival of UKIP as a political force was highlighted today when broadcasters invited leader Nigel Farage to take part in a live television debate with the main party heads in the run-up to the election. He would participate in one of three planned debates, and Farage said his party should be included in two "if the political landscape continues to change."
The UKIP leader's inclusion was criticized by regional groups including the Scottish National Party with more lawmakers at Westminster than UKIP's single MP.
Labour Deputy Leader Harriet Harman yesterday outlined policies including deporting immigrants who commit crimes even if they come from the EU, and limiting welfare for immigrants that haven't yet contributed to taxes.
Johnson said he favors an Australian-style "points" system to control the number of foreign workers. He said the government should negotiate with the EU to allow the U.K. to opt out of its freedom of movement rules and said Britain should be prepared to leave the bloc if its needs can't be met.
Farage said yesterday that an "uncontrolled freeflow of migrant labor" has left workers in Britain worse off.
"Unless we adopt a sensible, positive immigration policy, unless we get some degree of integration and assimilation within our towns and cities, we are going to live in a very divided society," Farage said. "UKIP doesn't want that."
Political Pressure
UKIP's support has swelled to 25 percent, while Labour and the Conservatives are both on 31 percent and the Liberal Democrats have 8 percent, according to the Survation poll in the Mail on Sunday.
A poll of 1,005 people by ICM Research taken on Oct. 8-9 for the Sunday Telegraph showed respondents predicted that UKIP would get 15 percent of the vote if a general election were held tomorrow. That compares with 30 percent for the Tories, 32 percent for Labour and 15 percent for the Liberal Democrats. UKIP took just 3 percent in the 2010 general election.
The success of UKIP has piled pressure on the leaders of the two biggest parties. The Mail on Sunday cited an unidentified Cabinet minister saying that if the Conservatives don't prevail in the next special election, Cameron may face a vote of no confidence among his lawmakers.
Labour lawmakers Harman and Chuka Umunna both faced questions on television on whether their leader, Ed Miliband, is fit for the job. "We are not going to have a wobble or a leadership change," Harman said.
Arriving at the House of Commons today, Carswell said UKIP was on course to gain a second lawmaker in the Rochester and Strood election as the party vowed to hold ministers to account over immigration and push for banking reform.
"People want change and I think change is coming," he said. "I am reinvigorated. Democracy works."
Before it's here, it's on the Bloomberg Terminal.
LEARN MORE