Campaign Fundraising Reports Coming This Week
The reports released three weeks before the election will disclose fundraising amounts and donors.
By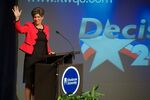 Remember all those solicitations for campaign contributions that swelled your inbox on Sept. 30?
We'll learn about the fruits of those money-raising labors this week.
Wednesday is the deadline for candidates for Congress to file reports that will disclose their donors and spending through the end of last month. Along with polling data, fundraising is a popular and quantifiable gauge of a candidate's viability, and the reports will receive ample media attention because they'll be released three weeks before the Nov. 4 election.
Some campaigns have already brandished their top-line numbers to attract media attention. Iowa Republican Joni Ernst said that she raised $6 million in the third quarter for her Senate campaign, an astounding sum that underscored her strength in one of the races that will determine which party wins the majority. Ernst had 47 percent backing and Democratic Representative Bruce Braley had 46 percent support in the Bloomberg Politics/Des Moines Register Iowa Poll released Saturday. 
The campaign-finance reports will trickle in through midnight Wednesday. Campaigns don't want to disclose their reports until it's absolutely necessary. They want to shield more delicate and strategic information, like donors and available cash-on-hand, from the prying eyes of political opponents and campaign-finance reporters for as long as possible.
House candidates and political action committees will file their reports electronically. Senate candidates are exempted from the electronic-filing requirement and will file their campaign-finance documents on paper (yes, even in 2014). As a result, there's a time lag of a few days for the paper documents to be scanned onto the Federal Election Commission's website, though even then the documents still aren't searchable.
The Wednesday deadline to file third-quarter campaign finance reports also is the close-of-books date for the final batch of campaign-finance reports before the election. Candidates have until Oct. 23 to file those reports, which will cover contributions and spending for the first 15 days of the month.
"I'm 3 days away from the FINAL FEC reporting deadline" and "I need 372 more donations in the next 24 hours or my campaign risks being completely drowned out," Colorado Republican Cory Gardner wrote today in one of those fundraising solicitations. Gardner is seeking to unseat Democratic Senator Mark Udall in another close race with national political consequences.