Poverty Ensnares 1-in-7 Australians Even After Decades of Growth
Michael Heath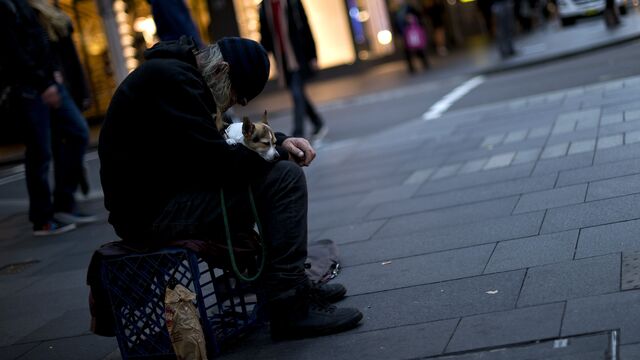 One in seven Australians live below the poverty line, even after more than two decades of economic growth, an Australian Council of Social Service report showed.
The poverty rate in Australia climbed to 14 percent in 2012, or 2.55 million people, from 13 percent in 2010, the council said yesterday in a report. This included 603,000 children, or 18 percent of the total. The poverty line is defined as 50 percent of median disposable income, a standard measure of financial hardship in wealthy countries, it said.
"The child poverty rate should be of deep concern to us all, with over a third of children in sole-parent families" falling into this category, Cassandra Goldie, chief executive officer of Acoss, said in a statement. "This is due to the lower levels of employment among sole-parent households, especially those with very young children, and the low level of social security payments for these families."
While a mining-investment boom sustained growth and employment in Australia's economy, which has avoided recession since 1991, increasing numbers of people have missed out and instead seen their finances stretched by high housing costs.
Central bank efforts to plug a growth gap with record-low interest rates are bypassing lower-income households, which account for just 6 percent of home buyers, while government pledges to return the budget to surplus mean support for the most marginalized has fallen as welfare payments stagnate.
Sydney Worst
People in Sydney, with a population of 4.4 million Australia's biggest city, are more likely to be in poverty than those in any other state capital, mainly because of high housing costs, the report showed. Fifteen percent of Sydneysiders fall into this category. New South Wales is the only state where a higher proportion of city residents than those in non-metropolitan areas live in poverty.
"The humiliation, deprivation and depth of despair some people feel is all too often either unknown or forgotten in the public stories and discourse about people living on welfare benefits," David Thompson, chief executive officer of Jobs Australia, a body for nonprofit organizations that assist the unemployed, said in the statement. "It is not them or us, they are us. And we would all do well to remember that, in a blink of an eye, it could be us."
While homeowners are better off after the Reserve Bank of Australia cut rates by 2.25 percentage points between November 2011 and August 2013, few lower-income households benefited. Australians in the bottom 40 percent of incomes account for just 6 percent of homebuyers, according to the Australian Housing and Urban Research Institute.
$200,000 Club
Australia has the world's highest proportion of households with disposable income exceeding $200,000, data compiled by Bloomberg show.
Real estate accounts for 59 percent of gross household assets in Australia, the highest in the world after Norway, according to Credit Suisse Group AG's global wealth report, published last October. Sydney's median home price rose 14 percent from a year earlier in September to A$655,000 ($568,900), an RP Data CoreLogic Home Value Index showed Oct. 1. That compared with $539,500 in August in New York, according to Yahoo!-Zillow Real Estate Network.
"In a country as wealthy and as lucky as ours, it is a travesty that there are still so many people living in poverty, and that we are rapidly becoming a less equal society," David Morawetz, director of the Social Justice Fund, a philanthropic group, said in the statement.
Budget Pressure
The Acoss report set the poverty line at A$400 per week for a single adult in 2012 and A$841 for a couple with two children. Australia's unemployed receive A$257.80 a week for as long as they demonstrate an active search for work, a payment that's been indexed to inflation for more than 30 years.
The report reinforces criticism that spending cuts and tax rises in the government's May budget fall disproportionately on low-income earners. Prime Minister Tony Abbott's government is struggling to pass legislation including resuming indexation of fuel taxes, a proposed A$7 fee to see the doctor, tighter restrictions on unemployment benefits and others.
The report's finding "also emphasizes the danger posed by budget proposals to reduce the indexation of pension payments to the Consumer Price Index only, which is likely to result in higher poverty rates over time than would be the case if payments were indexed to wages and therefore community living standards," Goldie said.
The Acoss report also said women are "significantly more likely" to experience poverty than men, with 15 percent falling into this category compared with 13 percent of men.
It showed a higher level of poverty among people born in countries where the main language isn't English -- 19 percent -- compared with those born overseas in an English-speaking country -- 11 percent -- or in Australia at 11 percent.
"All available evidence on Aboriginal and Torres Strait Islander people continues to show these groups are at a significantly higher risk," Goldie said.
Before it's here, it's on the Bloomberg Terminal.
LEARN MORE