Ukraine Rebels Silence Weapons to Open Way to Buffer Zone
Aliaksandr Kudrytski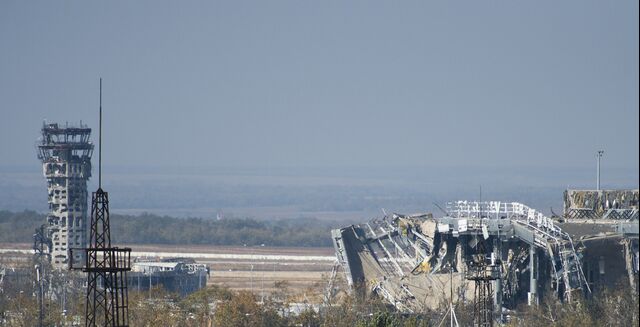 Separatists battling government troops in Ukraine's eastern Donetsk region agreed to silence their artillery and said both sides could withdraw their heavy weapons from the front line if shooting stopped for five days.
The pledge came as the United Nations said the conflict may have killed many more people than previously estimated. It also followed repeated unreciprocated attempts by Ukrainian President Petro Poroshenko to introduce a "silence regime" meant to precede the creation and monitoring of a buffer zone between the two adversaries hammered out in a Sept. 5 cease-fire agreement in Minsk.
"The DPR declared artillery fire silence today at 9:00 a.m.," Alexander Zakharchenko, the self-styled prime minister of the Donetsk People's Republic, said in a statement on the group's website. "If neither the Ukrainian army nor rebels break it for the next five days, a pullback of troops will begin from 30-kilometer (19-mile) buffer zone."
While last month's truce has reduced the bloodshed in Ukraine's easternmost regions, it's been marred by daily violence. There have been at least 331 deaths since the deal was agreed, the UN estimates.
Poroshenko expects "no easy talks" with Russian President Vladimir Putin next week when the two are scheduled to meet in Milan, Interfax news service reported, citing comments from the Ukrainian president in the city of Kharkiv. The "key issue" of the talks will be peace, Poroshenko said. He added that Russia and his government were much closer to a compromise on gas supplies after the EU, which depends on Russian gas piped through Ukraine for about 15 percent of its demand, proposed an interim deal.
'Substantial Losses'
Rebels fired on Ukrainian forces more than 30 times during the past 24 hours, mostly near Debaltsevo and Shchastya, Ukraine's Defense Ministry said on Facebook today.
One Ukrainian serviceman died in the past 24 hours in attacks that included a failed assault by the pro-Russian insurgents against the Donetsk airport today in which rebels suffered "substantial losses," military spokesman Andriy Lysenko said in Kiev. Separatists said yesterday they control most of the airfield, which the government says they want to use to set up a staging base for more attacks.
"We need no statements," Lysenko said, in response to the DPR announcement. "We need the fulfillment of the cease-fire agreements."
Death Toll
At least 3,682 people have been killed and 8,871 wounded in the conflict as of Oct. 8, the UN Office for the Coordination of Humanitarian Affairs said in a report on its website late yesterday. The UN said its estimate, based on official data that includes the Ukrainian army, armed groups, civilians and the 298 victims of Malaysian Air flight MH17, was "very conservative" and both it and the World Health Organization believe the numbers are considerably higher.
There are more than 400,000 people who have fled their homes to other locations in Ukraine and about 430,000 who have left the country, the report said. About 40,000 small- and medium-sized businesses have shut their doors in the Donetsk and Luhansk regions, where more than 5 million people are still at risk from the fighting, it said.
"Serious cease-fire violations are reported daily, and shelling has intensified in parts of Donetsk and Luhansk regions, despite the September cease-fire," the UN said in its report.
Russian-Trained Fighters
One civilian died and several government troops were wounded after rebels shelled locations in Luhansk yesterday, regional Governor Hennadiy Moskal said in a website statement.
A power station in Shchastya caught fire north of the city of Luhansk after it was shelled by tanks manned by fighters trained in Russia, Moskal said yesterday. Luhansk is under the control of a different group of rebel leaders than Donetsk.
Russia also sent 40 buses with fighters and 30 military vehicles across the border into Ukraine in the past two days, Lysenko said yesterday. Today, he said Russia must withdraw its troops from its territory, stop shelling across its border into Ukraine and halt its aid to rebels so Ukraine can set up border controls.
While Putin's government denies any involvement in the conflict, the U.S. and European countries have slapped it with economic sanctions for what they say is providing arms, weapons and fighters to the rebels to destabilize Ukraine and prevent it from deepening ties with the European Union and NATO.
Before it's here, it's on the Bloomberg Terminal.
LEARN MORE