Spanish Hospital Monitors 13 People for Risk of Ebola
Rodrigo Orihuela and Charles Penty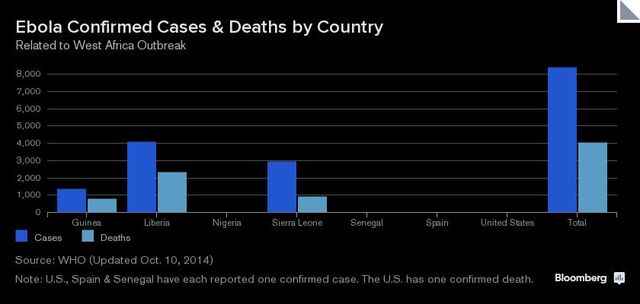 A Madrid hospital expanded the number of people quarantined for being at risk of contracting Ebola to 16 after a Spanish woman became the first person infected outside Africa.
Three people were checked in yesterday to Madrid's La Paz-Carlos III hospital to be monitored while doctors treat 44-year-old nursing assistant Teresa Romero, who became infected in the Spanish capital last month after helping care for two missionaries. Deputy Prime Minister Soraya Saenz de Santamaria said yesterday that she will lead a committee created to manage the country's response to the crisis.
Romero's state is "serious but stable," the hospital said yesterday. Romero's husband is among the 16 people under observation -- none of whom have Ebola symptoms. Among the 16 people under observation are three hairdressers who work at a salon Romero visited before being checked into the hospital.
The Spanish nursing assistant's illness, and the Oct. 8 death of a Liberian man in Dallas, have raised concern that Ebola will spread in Europe and the U.S. About 8,400 people have been infected with the disease, largely in Guinea, Sierra Leone and Liberia, according to the the World Health Organization. Of those, some 4,033 have died.
U.K. Screening
The U.K announced Oct. 9 it will start to screen arriving passengers as European nations become more vigilant of the disease. Prime Minister David Cameron has ordered a national exercise to test how the U.K. would deal with a potential outbreak of Ebola, with actors simulating symptoms of the virus, the BBC reported on its website today.
"We remain alert and prepared, should an Ebola case be identified here," Britain's Chief Medical Officer Sally Davies said in a Oct. 9 statement.
The U.K. will screen passengers arriving from those three African nations for signs of Ebola, following the U.S. in implementing measures that the WHO says are unlikely to work.
Medical staff will assess passengers arriving at Heathrow and Gatwick airports and Eurostar terminals, according to a statement from Cameron's office. The personnel will assess passengers' recent travel history, who they've been in contact with and onward plans.
U.S. Death
The U.S. has said it would start taking the temperature of passengers at five airports that account for more than 90 percent of passengers who enter the country from West Africa, after the Liberian man, Thomas Eric Duncan, became the first person to export Ebola outside of Africa when he arrived in Dallas last month. Duncan died of Ebola on Oct. 8.
In Australia, a nurse who treated Ebola patients in Sierra Leone has tested negative for the deadly virus after she was hospitalized with a low-grade fever. The 57-year-old woman will probably remain under observation for at least another 24 hours as a "necessary precaution," Jeannette Young, Queensland state's chief health officer, said in a statement yesterday.
The people being monitored for Ebola in Spain after having contact with the infected nursing assistant include five doctors, five nurses, three hairdressers, a hospital cleaner and a porter, the Spanish government said. An initial test showed no sign of infection in one nurse and another nurse had been released from care, according to the hospital.
Before it's here, it's on the Bloomberg Terminal.
LEARN MORE