Pro-McConnell Super-PAC Rakes in $3 Million More
The outside group is aiding the top-ranking Republican senator in his close race with Democrat Alison Lundergan Grimes.
By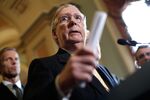 A super-PAC working to re-elect Senate Minority Leader Mitch McConnell in Kentucky raised $3 million in the third quarter from donors including an NFL team owner, a sister-in-law, and Papa John himself.
Bob McNair, the owner of the Houston Texans, sent $500,000 to Kentuckians for Strong Leadership, according to a filing the PAC made to the Federal Election Commission early Saturday.
It received $400,000 from Christie Chao, a New York lawyer whose sister, former Labor Secretary Elaine Chao, is married to McConnell. John Schnatter, who is CEO of Kentucky-based Papa John's, sent $10,000. Click here for a list of the individuals who made donations to the super-PAC in July, August and September.
The pro-McConnell PAC raised more than $6.8 million since it formed in April 2013. It focused early on attacking McConnell's Democratic opponent, Kentucky Secretary of State Alison Lundergan Grimes. This anti-Grimes ad appeared on Kentucky televisions in June 2013, more than 16 months before the election:
 Super-PACs can accept donations in unlimited amounts to make so-called independent expenditures that directly advocate for the election or defeat of candidates. The spending can't be coordinated with candidates.