politics
Christie Calls for Second-Chance Measures During NAACP Address
Terrence Dopp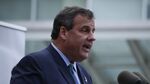 New Jersey Governor Chris Christie, a possible 2016 presidential candidate, told a convention of the state NAACP chapter that both parties need to advance "second-chance" legislation for the poor and those addicted to drugs.
Christie, a 52-year-old Republican, told the civil-rights group he wants the state's voters on Nov. 4 to approve a constitutional amendment waiving bail for indigent people accused of minor crimes. He also highlighted a program he pushed to expand drug treatment for non-violent offenders.
"I don't think second chances are just the domain of Democrats or Republicans," Christie said during a half-hour speech to the group today in Parsippany. "Because, from my perspective, we have sinners and wrongdoers aplenty in both parties."
Collectively, the measures give new hope to those who commit petty crimes to support a drug habit or want to turn their lives around, Christie said. The bill also allows state prosecutors to hold those accused of the most-violent crimes without bail.
The governor, when discussing legislative matters in Trenton and the need for politicians to work cooperatively, joked today that he "isn't running for office again in New Jersey." Christie said in an interview aired on CNN Oct. 1 he plans to announce his decision early next year on whether he'll seek the White House.
Since calling for the expansion of addiction treatment and so-called drug courts in 2012, Christie has pitched his case for viewing the issue as an extension of anti-abortion policies.
"It's easy for some in our society to say that they are pro-life when the life is in the womb," Christie said. "They haven't disappointed us then, but people come out of the womb and they make mistakes. And when they make mistakes we need to decide -- are we pro-life then too?"
Christie received a standing ovation and two rounds of applause following his speech today.
Senate President Stephen Sweeney, a Democrat from West Deptford mulling a run to succeed the second-term Christie, addressed the group earlier.
Before it's here, it's on the Bloomberg Terminal.
LEARN MORE