Cathay Showdown Looms as Pilots Reject Pay Rise Offer
Clement Tan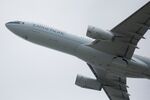 Cathay Pacific Airways Ltd.'s pilots are poised for showdown talks with the airline next week after a majority voted down an offer for a 10 percent increase in pay over three years.
Fifty-one percent of the Hong Kong Aircrew Officers Association's members voted against the carrier's offer in an online poll, compared with the 49 percent who voted in favor, according to Chris Beebe, the union's general secretary. Ninety percent of its 1,900 members voted. Cathay Pacific is "disappointed" with the voting results and is considering its next steps, it said in a statement.
"The offer was obviously inadequate," Beebe said in a phone interview today. "We are hopeful of some discussions with the company in the next few days. We are hopeful of a counteroffer."
If talks fail, the pilots may vote on a so-called contract compliance, a form of industrial action in which they won't put in any more effort than is stipulated in their employment contracts Such action, also known as "work to rule," may potentially disrupt operations over the busy year-end period.
Beebe said he expects work-to-rule to have a "serious impact" on Cathay's flight operations. He declined to provide further details.
"The nature of our business requires us to prepare resources to cover any operational irregularities," the carrier said in its statement. "We will do our best to make sure that we continue to operate our flight services as scheduled."
The South China Morning Post reported today that under the carrier's proposal announced last month, its Hong Kong-based pilots will get increases of 4 percent this year, 3 percent next year and 3 percent in 2016. Europe-based pilots will get wage increases of 3 percent, 2 percent and 3 percent during the same period, while those in New Zealand will get a 1 percent increase in each of those years.
Before it's here, it's on the Bloomberg Terminal.
LEARN MORE