Feminists Weigh In for Chevron in Racketeering-Oil Pollution Case
Paul M. Barrett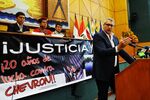 High-stakes court cases draw a crowd. Parties not directly involved in the immediate dispute file "friend of the court" briefs to illuminate larger stakes and hidden implications. The epic Chevron-Ecuador pollution litigation—which has spawned an oil company racketeering counterattack against the lead plaintiffs' lawyer—is no different.
Business groups have chipped in amicus briefs warning that the campaign against Chevron represents a classic corporate shakedown. Human-rights scholars have weighed in on both sides, some condemning Chevron, others warning that the company's antagonist, attorney Steven Donziger, succumbed to corrupt means to achieve his stated goal of helping Ecuadorian farmers and tribe members.
On Oct. 8, a fascinating friend-of-the-court filing arrived at the U.S. Court of Appeals for the Second Circuit in New York. The Women's Legal Defense and Education Fund urged the appeals court to rule for Chevron on a highly technical but critical issue. You read that correctly: The nation's oldest women's-rights legal advocacy organization, a left-leaning group that helped enact the landmark 1994 Violence Against Women Act and represents victims of sexual harassment and spousal brutality, supports the multinational oil company in its struggle against a crusading lawyer who claims to represent the impoverished and oppressed.
Lambs lying down with lion? Not exactly. The feminists side with Chevron on only one narrow matter: the meaning of the Racketeer Influenced and Corrupt Organizations (RICO) Act.
Let's back up for some context: In 2011, Donziger, who is based in New York, won a record $19 billion pollution judgment against Chevron in Ecuador. Seeking to undermine the verdict, the oil company countersued Donziger in federal court in New York under the 1970 RICO statute. In March of this year, a U.S. district judge ruled that Donziger's pollution suit, whatever its original merits, had morphed into an extortion conspiracy featuring coercion and bribery of Ecuadorian judges, fabrication of scientific evidence, and ghostwritten court documents. Donziger denies wrongdoing and has appealed the RICO judgment. If his being branded a racketeer survives on appeal, that could inhibit, to say the least, his ability ever to collect on the Ecuadorian victory.
Enter the Women's Legal Defense and Education Fund, which now flies under the pithier unisex banner "Legal Momentum." One of the issues in the RICO appeal is the question of whether the convoluted language of the racketeering statute allows for a private party, such as Chevron, to obtain a judicial order known as an injunction. In this case, Chevron sought and obtained not money damages from Donziger, but a court order that he and his clients may not profit from their ill-gotten Ecuadorian verdict.
On appeal, Donziger's legal team argues that RICO simply doesn't provide for this kind of remedy. Legal Momentum disagrees.
The feminist brief notes a "blanket consensus" that federal prosecutors can use the civil provisions of RICO to obtain permanent injunctions barring past wrongdoers from further misconduct. If prosecutors "can rely on that grant of judicial authority to seek equitable relief—and everyone agrees they can and regularly do—then private actors can, too," Legal Momentum asserts. "The text and structure of the statute are dispositive of the question presented here, on this basis alone."
For the feminist lawyers, this isn't an academic concern. Legal Momentum points out to the appeals court that private parties—women seeking to exercise their constitutional rights, abortion-clinic workers, migrant laborers, victims of human-rights abuses, and consumer protection groups—have obtained RICO injunctions in other cases. In 2001, the leading federal appellate precedent on the point upheld an injunction against anti-abortion activists seeking to obstruct access to a women's health clinic.
"New forms of abuse and criminal activity continue to emerge today to threaten the economic and physical safety of women and girls," the brief continues. "Human trafficking is just one current, but horrific example. Erasing the possibility of injunctive relief under RICO would significantly impair the efforts of brave victims and civil rights organizations to seek personal safety and protection, and basic justice, through the U.S. court system."
I asked Donziger's spokeswoman for comment and didn't receive a response. I'll update when and if I do.
In the meantime, let me note that some lower courts have agreed with Donziger that RICO doesn't provide private parties with the ability to obtain injunctions. The Second Circuit hasn't ruled definitively on the question and presumably will use this case to do so. Given the far-reaching ramifications identified by Legal Momentum, I wouldn't be surprised to see this issue ultimately reach the U.S. Supreme Court.
UPDATE: Here is a late-arriving comment from Donziger's spokeswoman, Karen Hinton:
Injunctive relief under RICO is only one of many obstacles that Chevron must overcome for the district court's flawed decision to stand. There is also Chevron's lack of standing, lack of jurisdiction, and violation of international comity among other issues. On the RICO issue, the overwhelming weight of legal authority in this country — including that of the United States government–is against Chevron's position.
Before it's here, it's on the Bloomberg Terminal.
LEARN MORE