Why Edward Snowden Didn't Win the Nobel Peace Prize
Things might have gotten complicated between Norway and the United States if the Nobel Peace Prize had gone to the former NSA contractor.
By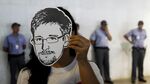 Edward Snowden, along with Pope Francis, was favored to win this year's Nobel Peace Prize by bookkeepers and others who handicap such things.  But he didn't, and now comes speculation that he was passed over because it could have complicated Norway's  relationship with the United States.