Why Edward Snowden Didn't Win the Nobel Peace Prize
Things might have gotten complicated between Norway and the United States if the Nobel Peace Prize had gone to the former NSA contractor.
By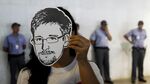 Edward Snowden, along with Pope Francis, was favored to win this year's Nobel Peace Prize by bookkeepers and others who handicap such things.  But he didn't, and now comes speculation that he was passed over because it could have complicated Norway's  relationship with the United States.
"Giving it to Snowden would run against all political instincts," Kristian Harpviken, director at the Peace Research Institute in Oslo, told the Christian Science Monitor. "He is, after all, considered a traitor to one of Norway's closest allies." 
The committee that names the Nobel winner is appointed by the Norwegian parliament, and their decisions have had repercussions  — China retaliated against the country for awarding the 2010 prize to Chinese dissident Liu Xiaobo. Some would like to bring foreigners onto the panel, to make sure that Norway's domestic issues don't influence the choice. 
They include Sverre Valen, a Norwegian lawmaker who nominated Snowden this year. Valen told the Associated Press that the panel should bring in more foreign judges to increase its credibility. He was particularly critical of the panel's 2009 award to President Obama. "He is the first Peace Prize winner who celebrated by starting a drone war," Valen said. 
At the same time, this year's decision hasn't been met with much skepticism. Winners Pakistan's Malala Yousafzai and India's Kailash Satyarthi were both recognized for standing up for children's rights to an education, an issue that received more attention than usual this year due to the Boko Haram schoolgirl kidnappings in Nigeria.
Yousafzai, who rose to fame after being shot by the Taliban for her activism, was also a favorite for the award last year, and while the committee doesn't usually explain why they choose one nominee over another, her selection also was seen as a message from the committee to radical Islam. 
Geir Lundestad, the director of the Nobel Institute, implied that the committee was worried about Yousafzai's age. "We waited," Lundestad said. "We did not give Malala the Noble Peace Prize last year ... we took our time but we are very optimistic that this will work out well. Of course, its true, she's a girl, she's 17 years old and this will dramatically change her life and we hope for the better."