The Strategic News Leak: 'Integral' to Washington's Game
Mike Dorning and Jonathan Allen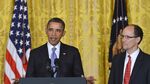 It had all the markings of the Washington strategic leak.
The anonymously sourced story appeared yesterday on the website of the New York Times, a favored outlet for White House officials and their allies.
It was sure to energize two crucial factions of the Democratic base just before a midterm election: unions and Hispanics. It was also certain to provoke Republican critics, adding fuel to the fire Democrats are trying to ignite under their own voters.
And, the report that Labor Secretary Tom Perez is President Barack Obama's top choice to replace Eric Holder as attorney general and that he'd act before the Nov. 4 elections couldn't be confirmed or disproved with certainty.
"It's basically part of the process," said Julian Zelizer, a presidential historian at Princeton University. "It's integral to the Washington culture."
Strategic leaks on nomination deliberations offer presidents multiple advantages with little political cost. A trial balloon allows the White House to test the response to a potential nominee and unleash a round of public vetting before the president puts his prestige on the line.
"They're trying to give voters a little glimpse into the conversations that take place in the White House," Zelizer said. "In this case, it shows the president talking about progressives, talking about the immigrant community. He's sensitive to what many Democrats want him to be thinking about."
Not Speculating
The official White House response to the report was a refusal to comment on the president's preferences or the timing of a nomination. "We're not going to engage in speculation," Eric Schultz, a White House spokesman, said.
People familiar with White House deliberations, who asked for anonymity to discuss private talks, said Obama hasn't settled on a choice and the administration hasn't given Senate Majority Leader Harry Reid an indication of when a nomination may be sent along for confirmation.
One person said Obama's advisers are concerned that Perez might spark a damaging confirmation battle. Forty-three Republicans voted against his nomination for labor secretary.
The same issue is a concern for another contender for the attorney general's post, former White House Counsel Kathryn Ruemmler, the person said. Republicans probably would use any hearings to question her about White House actions on a variety of issues including investigations into misconduct involving the Secret Service and the Internal Revenue Service's scrutiny of small-government Tea Party groups.
Possible Candidates
Other potential candidates to replace Holder include Solicitor General Donald Verrilli, and Loretta Lynch, the U.S. Attorney for the Eastern District of New York.
Even if a candidate isn't a frontrunner for a post, the leaking of a name may have political benefits either as a way of appealing to a political constituency or enhancing the reputation of a favored, rising figure in the party.
"There's always a modestly long list of names because its brand-enhancing for those individuals," said Douglas Brinkley, a presidential historian at Rice University. "Just to be considered means you're at the top of the mountain."
Richard Nixon is captured on White House tapes instructing aides to float the names of two women for vacancies on the U.S. Supreme Court, to court female voters before the 1972 election. He is gleeful when an American Bar Association panel later grades the women as unqualified, calculating that the development provides him political credit without facing pressure to make appointments.
Nixon's Conversation
"Not one qualified -- and she's the best-qualified woman but she's not qualified for the Supreme Court. Jesus, that's great. That's great." Nixon said in a telephone conversation with his attorney general, John Mitchell on Oct. 20, 1971.
At another point on the tapes he tells Mitchell to leak the names of some Jewish candidates, despite showing little interest in appointing them.
A prospective Perez nomination would have the potential to motivate some Democrats for the midterm election, which historically don't draw heavy turnouts from minority voters.
Before his appointment as Labor secretary, Perez headed the Justice Department's civil rights division. He opened a record number of civil rights investigations into police agencies accused of brutality or discrimination and challenged voter identification laws in South Carolina and Texas that Democratic officials say may depress turnout among minorities and the poor.
"Both parties are desperate to find new Latino stars yet they aren't household names," Brinkley said. "So you have to float their names around and see if they can survive the information age onslaught."
There's another long-standing motive for strategic leaks in Washington: a faction within the White House attempting to build political support for their agenda through public exposure.
That doesn't always work. Lyndon Johnson once quietly initiated a search for a replacement for FBI Director J. Edgar Hoover.
After news of the gambit broke, Johnson responded by giving Hoover a lifetime appointment to the post.