Spain's Ebola Case Fuels Debate Over Cuts in Health Spending
By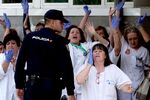 Officially, Spanish Prime Minister Mariano Rajoy's visit to Madrid's Carlos III hospital today was to thank the medical team that's treating Teresa Romero, a nursing assistant who was infected by the Ebola virus while caring for a patient who died at the hospital.
But Rajoy also is trying to quell a growing political storm over Spain's handling of the first confirmed case of Ebola contracted outside Africa. Nurses and other health workers are balking at doing their jobs, complaining of poor training and safety protections. A local nurses' union says some of its members have quit their jobs to avoid potential exposure to Ebola, and a group of doctors is demanding to know whether they're obliged to treat Ebola patients "without adequate training."
Rajoy today put Deputy Prime Minister Soraya Sáenz de Santamaría in charge of the government's management of the crisis, following complaints that Health Minister Ana Mato had "yet to give any explanations regarding the chain of errors" in Romero's case, the newspaper El País reported.
As with Ebola victim Thomas Eric Duncan, who was initially seen at a Dallas hospital that sent him home without diagnosing the virus, Romero's illness wasn't diagnosed until almost a week after she first reported symptoms. But the outrage in Spain has focused mainly on the fact that Romero was infected while working in a hospital, and that safety measures there and at other facilities appear to have failed.
Health workers' unions have linked these problems to draconian cuts in health-care spending enacted over the past few years, as Spain fought its way out of economic crisis. The national health and social services budget was cut by almost 14 percent in 2012 and an additional 16 percent last year, and some regional governments, including Madrid's, made additional deep cuts in their health spending.
Among the biggest reductions nationwide was a 75 percent cut in funds for professional training, according to an analysis by Spanish and British researchers that was published last year in the BMJ, the medical journal of the British Medical Association. In a subsequent article published in the Lancet, another British journal, the authors warned that reduced spending "could have serious consequences" for the spread of infectious diseases such as tuberculosis.
"It's impossible to link a single episode" like Romero's case to wide-ranging budget cuts, says Martin McKee of the London School of Hygiene and Tropical Medicine, who co-authored both articles. Moreover, some of Spain's budget savings—such as requiring patients to pay higher co-payments for treatment and medications—are clearly unrelated to the Ebola crisis. But, McKee says, complaints about inadequate training and equipment "have to be listened to. There is plenty of evidence that there is a wider problem."
Romero has said that she may have inadvertently contaminated herself by touching her face while taking off a protective suit she wore. The World Health Organization and other agencies have set detailed protocols for putting on and removing protective gear, considered essential to avoid the spread of infection. Yet a doctor at Carlos III hospital told the newspaper El Mundo that he received only about 10 minutes of training on the subject of avoiding contamination.
At Madrid's Alcorcón hospital, where Romero was initially admitted, she was examined by emergency-room staff who wore only gloves and masks even though she told them she was afraid she might have Ebola. A doctor who treated Romero after she was placed in isolation said the only high-level protective suit available in the hospital was so small that it left his bare forearms exposed. That doctor and a number of Alcorcón and Carlos III hospital staff have since been placed under observation. So far, none has been found to have contracted Ebola. Romero remains hospitalized and in stable condition.
At a briefing in Madrid late on Friday, Health Minister Mato said the government had opened a probe into possible failings of the system in the handling of Romero's case. She also pledged that Spain would have adequate resources to combat Ebola.
Before it's here, it's on the Bloomberg Terminal.
LEARN MORE