Rousseff Success Seen Based on Poor Rising With Benefits
Raymond Colitt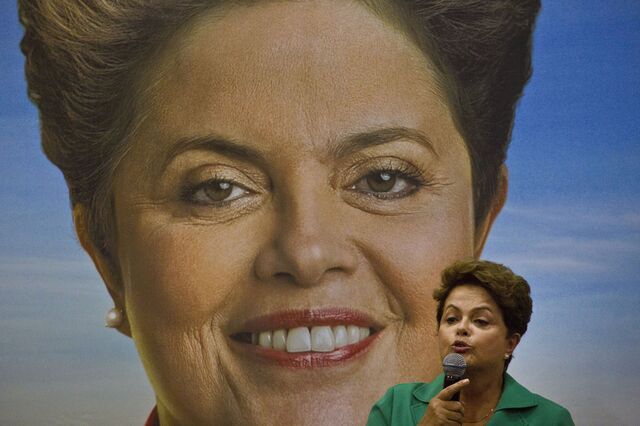 President Dilma Rousseff has counted on the support of most of the 35 million Brazilians who rose from poverty during the 12-year reign of her Workers' Party as she fights to win a second term during an unpredictable election year.
Backing from those voters won Rousseff 42 percent in the Oct. 5 first round, and 44 percent in the most recent poll taken after that vote. To defeat challenger Aecio Neves in the Oct. 26 runoff, she will need to add a group of swing voters who have prospered while her party, known as the PT, has governed, yet may be open to Neves's call for change.
Rousseff has a two-pronged strategy of signaling policy change to attract swing voters and reminding those who benefited from PT policies that they could again fall back down the social ladder, said Marcos Troyjo, who teaches and co-heads a forum on emerging markets at Columbia University in New York. That may work to deflate a Neves campaign that has been gaining momentum, he said.
"Many Brazilians with low expectations of politicians feel like they're actually getting something out of government under the PT -- higher income, housing, health," Troyjo said by phone from Rio de Janeiro. "Reminding voters of that may still work. Dilma still has a chance."
Rousseff's strategy is being tested as Neves surges in polls taken by Datafolha, Ibope and Instituto Parana in the days since the first-round vote. The opposition candidate gained support in all three polls and is statistically tied with the incumbent in the Datafolha and Ibope surveys that have a margin of error of plus or minus two percentage points.
Statistical Tie
Rousseff has 44 percent and Neves 46 percent in both the Datafolha and Ibope surveys published last night. In the Instituto Parana poll, which has a margin of error of plus or minus 2.2 percentage points and was published Oct. 8, she has 41 percent against 49 percent for Neves.
With the economy in recession and inflation above target, Rousseff is arguing that her policies cushioned the impact of a global crisis that destroyed jobs across the world. In Brazil, unemployment is near a record low of 5 percent and wage gains have exceeded consumer price increases every year of the past decade.
For those discontented with the slowest growth since 2009 and the fastest inflation in almost three years, Rousseff said in her first speech after the Oct. 5 vote that she would implement "new ideas" in the economy and exert more control over price increases.
'Social Transformation'
Voters need to choose between a party that was defeated in the three past elections and another that carried out the "most successful social transformation in the history of Brazil," the president's campaign said on its website yesterday.
Rousseff says Neves's Brazilian Social Democracy Party, which ruled the country from 1995 to 2002, implemented policies such as record-high interest rates that caused higher unemployment and led to energy rationing in 2001.
The PT's social welfare programs reach Brazilians from shantytowns to the far reaches of the Amazon, from students to workers. The flagship cash transfer program, Bolsa Familia, benefits almost 25 percent of the country's population of 200 million. Rousseff championed a program that imported doctors from Cuba and Spain to provide basic health services to 50 million Brazilians in under-serviced regions.
Her administration also paid for 8 million students to receive vocational training, keeping younger Brazilians out of the workforce, thereby reducing the jobless rate.
Vote Tally
"Neves is a candidate who would just govern for the wealthy," said Nayane Christine, a 24-year-old student who studies psychology on a government-funded loan. "He didn't even win in his own state of Minas Gerais."
Neves, who governed Minas Gerais from 2003 to 2010, got 40 percent of the votes in his home state in the first round, compared with 44 percent for Rousseff. The incumbent's biggest support came from the northeast of the country, home to a majority of the Bolsa Familia recipients.
In the state of Bahia, she garnered 61 percent against 18 percent for Neves. In the wealthier, more industrialized state of Sao Paulo, Rousseff tallied 26 percent of the vote, against 44 percent for Neves.
Compared with 2010, when she got 47 percent of the votes in the first round, her support has fallen.
'Past Ghosts'
Both candidates began their second-round campaigns this week by seeking to play to their strengths. Rousseff said voters should fear the "ghosts of the past," in a reference to the country's economic performance under the PSDB government. Neves retorted that they should be afraid of the "monsters of the present," citing inflation, slow growth and corruption scandals.
Latin America's biggest economy grew an average 2.1 percent in Rousseff's first three years in office, after expanding 7.5 percent in 2010. Growth will slow to 0.24 percent this year, according to analysts surveyed by the central bank.
Slower growth didn't help ease inflation that accelerated to 6.75 percent last month and has remained above the 4.5 percent mid-point of the government's target for the last four years.
The real weakened 31 percent since Rousseff took office in January 2011, the worst performance after the South African rand among the 16 most-traded currencies tracked by Bloomberg. The Ibovespa fell more than 17 percent in the same period.
More Growth
Neves has been able to tap support among voters who four years ago were aligned with the PT by convincing them he is prepared to adopt policies that will create a new cycle of growth without jeopardizing social gains, said Andre Cesar, an independent Brasilia-based political analyst,
"Rousseff's candidacy is facing a tough moment," said Cesar, who correctly predicted Rousseff would win in 2010, even when she was behind in polls. "She hasn't been able to respond to the voters who wish for more."
Rousseff is still the favorite, even as polls show Neves pulling ahead, says Joao Augusto de Castro Neves, an analyst with Eurasia Group, a New York-based political risk consulting company.
"The economic situation is beginning to erode her support at the upper end of the new middle class, but the strugglers still feel enormous gratitude to the PT," Castro said in a telephone interview.
While Neves is benefiting from favorable media exposure after his surprising performance in the first round, Rousseff will begin to recover ground next week after the resumption of TV campaigning yesterday, Eurasia said in research note yesterday.
Unlike Silva, who came from a poor family of rubber tappers in the Amazon, Neves stems from a prominent family. His grandfather, Tancredo Neves, was elected president of Brazil in 1985 and died before taking office. Since Neves's voters tend to be more wealthy and educated than Rousseff's, according to polls, the PSDB is more vulnerable to being labeled as an elitist party, Castro said.
Before it's here, it's on the Bloomberg Terminal.
LEARN MORE