RBS Set to Reach FX Settlement Within Year, CEO Says
Stephen Morris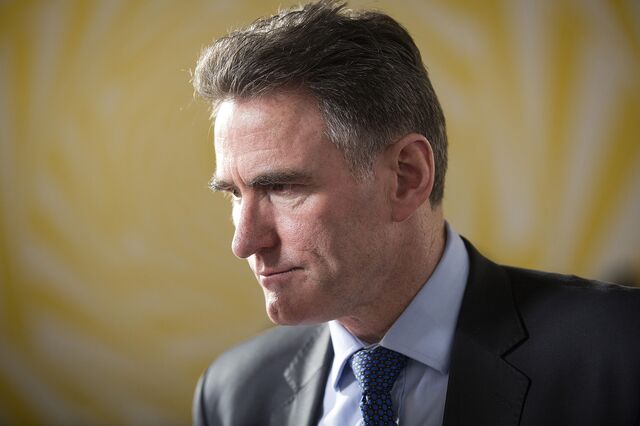 Royal Bank of Scotland Group Plc could reach a settlement with authorities over the alleged rigging of foreign-exchange markets in the next six to 12 months, Chief Executive Officer Ross McEwan said.
The two biggest litigation issues facing Britain's largest state-owned lender are an investigation into currency rigging and the U.S. government probe of the bank's mortgage-backed securities business, McEwan, 57, told investors on Oct. 6, according to a transcript provided by Sanford C. Bernstein Ltd.'s Chirantan Barua, who hosted the call.
"I keep saying to my people, we've had a very good sunny summer, but I suspect we are in for a bit of a cold winter given that we haven't had any of the big litigation issues that we know or the big conduct and litigation issues that we know are coming," McEwan said. "My mind is let's get on with it."
The U.K. Financial Conduct Authority said this month it wants to deliver faster justice in its investigation into currency manipulation than it has in probing interest-rate rigging, which RBS was also fined for. The U.S. Federal Housing Finance Agency sued 18 banks including RBS in 2011 to recoup taxpayer costs resulting from misconduct in the way mortgage securities were sold before the financial crisis.
RBS shares dropped after the comments were published, declining as much as 1.4 percent, before trading at 358.8 pence at 2:05 p.m. in London, up 0.1 percent on the day. They have climbed 6.1 percent this year, the only lender to gain among Britain's five largest banks.
Chris Turner, a London-based spokesman for RBS, declined to comment beyond McEwan's statements.
'Cleaner Business'
"If we can get through the next 15 months and get answers to as many of these as we possibly can as we roll into 2016, we have got a much cleaner business with a lot less overhang," he said. "Ideally, that will be the time frames I will be working towards."
McEwan, who took over from Stephen Hester a year ago, has set up a bad bank to house the lender's riskiest assets and announced plans to scale back investment-banking operations to focus on U.K. consumers. RBS, based in Edinburgh, remains on target to meet its "audacious goal" of 1 billion pounds ($1.6 billion) of cost savings this year, he said.
Stress Tests
"I wouldn't say I worry," McEwan said when asked about Bank of England stress tests coming up this year, even though they're based on RBS's capital position at the end of last year as opposed to its improved current levels. "I don't lose any sleep, testing us based on last year when we are a completely different bank already."
The bank took advantage of improved market prices to sell 9 billion euros ($11 billion) of bonds, mainly asset-backed securities from its Dutch entity, to cut the amount of capital it needs to hold, a person with knowledge of the matter said last month. RBS also raised $3 billion by selling shares in Citizens Financial Group Inc. last month. It still owns 75 percent of the U.S. lender.
The bank's common equity Tier 1 capital ratio, a measure of financial strength, rose to 10.1 percent in the first half from 8.6 percent at the end of 2013. The CEO said he expects RBS to reach a leverage ratio, a measure of how much capital it has compared with total assets, of about 4 percent to 4.25 percent.
Ulster Bank
McEwan said he doesn't think outsourcing RBS's corporate and institutional banking division, which houses most of the investment-banking activities, is a good solution to comply with proposed ringfencing rules, which separate and protect banks' consumer businesses from riskier activities. RBS will probably form more alliances with banks it doesn't compete with, and foster partnerships in markets and countries it doesn't operate in, he said.
The CEO also said his preference is to hold onto Ulster Bank in Ireland as the economy gathers strength.
Before it's here, it's on the Bloomberg Terminal.
LEARN MORE