Protesters Clash With St. Louis Police After Teen Killed
Elizabeth Campbell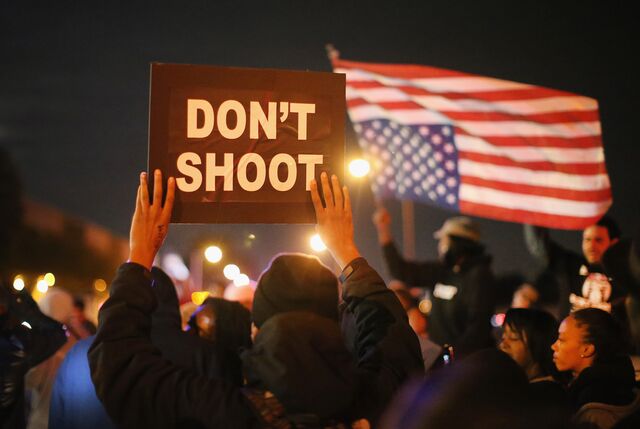 St. Louis police faced off with about 200 protesters one night after an off-duty officer shot an 18-year-old he was chasing.
The crowd marched through the streets on the city's south side last night, blocking traffic, beating a bass drum and chanting, "Hands up, don't shoot." They burned two American flags in a residential neighborhood and a protester smashed a police-car window across an intersection from the line of officers. Eight people were arrested, according to the police department.
"They feel there's been no justice with the system, how black men are constantly getting shot and killed," said Derrick Robinson, pastor of Kingdom Destiny Fellowship, who led protesters down Grand Boulevard with a megaphone.
The confrontation came two months after a police officer in Ferguson, a St. Louis suburb, shot unarmed teenager Michael Brown, touching off nights of rioting. The U.S. Justice Department is investigating the case and a grand jury is deciding whether to indict Officer Darren Wilson.
Last night's clashes began about 10:15 p.m. local time. After keeping a distance from marchers, officers in riot gear blocked their progress with shields and pepper spray. A helicopter orbited, spotlighting groups of protesters.
Lokey Jackson, 15, sat on the curb across from a phalanx of police and said a friend was detained.
"He just didn't move," Jackson said. "So they Maced him and they arrested him."
Planned Resistance
The second-straight night of unrest on the streets of St. Louis came before a series of protests planned across the area in what organizers are calling a "Weekend of Resistance" to protest police violence against minorities.
Rallies and vigils are planned in Ferguson and St. Louis with a march to St. Louis County prosecutor Robert McCulloch's office scheduled this afternoon to demand justice for Brown. McCulloch, whose police-officer father was killed in a shooting more than 50 years ago, won't conduct an impartial investigation and should recuse himself, protesters have said.
Other planned weekend events include panels on police militarization, teach-ins on interacting with law enforcement, prayer services, hip-hop performances and a yoga class.
The protests are only one part of an already busy weekend for authorities. The National League pennant series begins tomorrow at 8 p.m. in St. Louis, as the Cardinals host the San Francisco Giants.
Police Tank
This morning's confrontation came to a head about 1 a.m., when an armored police tank moved toward protesters near the intersection of Arsenal Street and Grand, and an officer on a loudspeaker directed the crowd to disperse or be arrested, calling the gathering an "unlawful assembly." Most of the protesters disbanded within the hour.
Five people were arrested for unlawful assembly, two for property damage, and one person for marijuana possession, Schron Jackson, a police spokeswoman, said in an e-mail. Two department vehicles were damaged, and one officer was hit in the arm with a brick.
At least one business was damaged. The glass front door of the Medicine Shoppe on Grand was smashed, and a half mile away, protesters pulled an American flag off the pole in front of a nursing home.
The anger was set off by a killing Oct. 8. Police said Vonderrit Myers ran from an off-duty officer who had been working a second job as a guard. Myers shot at the officer after a struggle, police said. The officer returned fire, killing him.
Police said they found a 9mm pistol at the scene. Myers's mother, Syreeta Myers, told the Associated Press that her son had been holding a sandwich, not a gun.
Before it's here, it's on the Bloomberg Terminal.
LEARN MORE