Pakistanis Laud Yousafzai for Nation's First Nobel Peace Prize
Khurrum Anis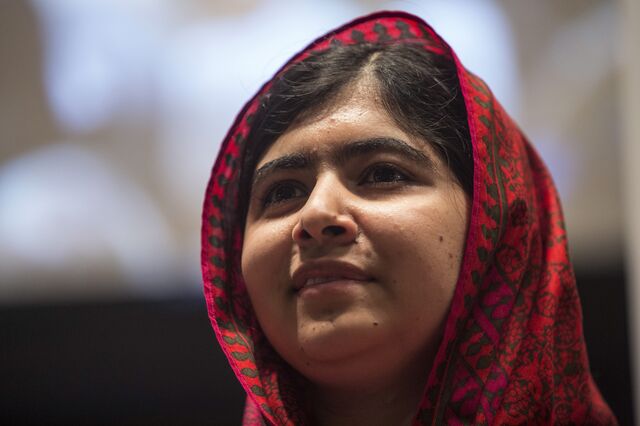 Pakistanis celebrated after Malala Yousafzai, the schoolgirl who was shot by the Taliban, became the first person from the South Asian nation to win the Nobel Peace Prize for her advocacy of children's education rights.
Yousafzai, 17, became the youngest person to be awarded the prize, announced today by the Norwegian Nobel Committee in Oslo. She shared the award with Kailash Satyarthi, 60, an Indian child rights' activist.
Pakistani television channels showed graphics of fireworks in celebration, and compared her to global leaders such as South Africa's Nelson Mandela. Taliban militants, who shot Yousafzai in the head in retaliation for her campaign for girls to be given equal rights to schooling, threatened to kill her after she was nominated for the award last year.
"I am very excited, this is something big for Pakistan," Anis Haroon, former chairwoman National Commission on the Status of Women said on the phone from Karachi. "Her struggle for peace and education and against extremism has paid off and this award recognizes the strength of girls' struggle."
While traveling to school in Pakistan's Swat Valley in October 2012, Yousafzai was shot because she defied threats from militants, who wanted her to stop her campaign in her hometown. The bullet struck just above her left eye, grazing her brain.
"This is not good news only for Malala or for her family or for the people of Swat, but for all the people of Pakistan," Interior Minister Nisar Ali Khan said at a news conference in Islamabad. "The country's status has increased across the globe."
Bina Shah, a novelist in Karachi, said in a comment on her Twitter Inc. microblogging site that she shed tears of joy to hear the news of Yousafzai's win.
'Conquered a Lot'
"Proud to hear that Malala has won the Nobel peace prize," Awab Alvi, a supporter of Imran Khan's Pakistan Tehreek-e-Insaf said in a remark on Twitter. "Dispute all you want but she's conquered a lot."
Yousafzai has been criticized for opting to live in the West, with detractors accusing her of forging her concerns for the under-privileged while living a luxurious life there. Yousufzai now attends school in Birmingham, where her father works at the consulate, after being flown to the U.K. for emergency treatment. She gained global recognition after pledging to continue her struggle against illiteracy, poverty and terrorism.
"People have worked harder than Malala in the field of education and they are dying in their work but no one cares about them," said Aslam Ghauri, deputy secretary general of the Jamiat Ulama-e-Islam (F), a religious party that's part of the government alliance. "This will make Europe happy, it won't have any effect in Pakistan."
Yousufzai was ranked the top pick for last year's Nobel Peace Prize by the Peace research Institute in Oslo, which ranks contenders every year.
"Malala's win should mean education should get a boost in this country, especially girls' education for which she was championing," Khan, a politician and former cricketer, told reporters in Islamabad."This is a great and proud moment."
Before it's here, it's on the Bloomberg Terminal.
LEARN MORE