MoveOn, Trolled But Not Deterred
Conservatives try to make the progressive group irrelevant again, but MoveOn is ready for the attack.
By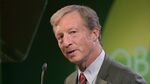 Ten years ago, MoveOn.org staged a creative event for a pre-YouTube era. It was called "Bush in 30 Seconds," and it encouraged videographers and Final Cut junkies to make TV ads against the Republican president. The winner, "Child's Pay," actually attacked the GOP from the right, portraying adorable tots hard at work in manual labor, ending with this message: "Guess who's going to pay off President Bush's $1 trillion deficit?"*
 "Child's Play" ran on TV, but it's not what the contest is remembered for. Republicans, armed with search engines and working fingers, noticed that two unpopular submissions compared Bush to Adolf Hitler. "This is the worst and most vile form of political hate speech," declared Ed Gillespie, then the chairman of the Republican National Committee and now a quixotic candidate for U.S. Senate in Virginia. This was shorthanded to a less-true attack, that MoveOn compared Bush to Hitler, which was deployed against any Democrat supported by the group until MoveOn's 2007 "General Betray-us?" ad gave Republicans something new to attach the stone of shame to. 
I bring this up because MoveOn is back in the video contest game, and it is being trolled anew. The venerable group has partnered with the Progressive Change Campaign Committee and Mayday PAC for "Mayday in 30," a hunt for the best ad to help "reduce the corrupting influence of money in politics." The judges include progressive New York candidate/author Zephyr Teachout, author Baratunde Thurston, and actor Jason Alexander.
The submissions are being led by an ad from American Commitment, a group funded by the Koch network and founded by Phil Kerpen, formerly a vice president at David Koch's Americans for Prosperity. This morning, Kerpen's "America's Biggest Hypocrite" -- a plea for Iowa voters to reject the advice of environmentalist tycoon and ad-buyer Tom Steyer – had more than 1,000 votes, more than 10 times as much as the closest rival. Kerpen's gotten it there with tweets and attaboy links from conservative blogs.
The Koch-ization of Steyer has been a Kerpen project for much of the year; this ad is a cut-down version of an attack AC ran in August. Terri Lynn Land's U.S. Senate campaign in Michigan has tried to blunt Koch attacks by spotlighting Steyer.
MoveOn is not bothered. "MoveOn hasn't emailed its members yet to invite them to vote, so it might be worth waiting until after submissions and voting close to see where things stand," said Ben Wikler, MoveOn's Washington director. "In any event, contra contest instructions, the Koch submission is a candidate-specific video about a non-Mayday race, and the final winners will be selected by the panel of judges."
In other words: Thanks for playing, but we will not be trolled. "MoveOn's confidence that their members will vote against exposing the stunning hypocrisy of the biggest donor in American politics is an unfortunate confession of their unprincipled partisanship," Kerpen said via email. The campaign to call out the hypocrisy of Democrats who bash the Kochs but benefit from Steyer ("California billionaire Tom Steyer," as the ads have it) money will continue, but MoveOn has found that the Koch attacks motivate the sort of Democrats who showed up in 2008 and 2012 but slept on 2010.
Also, MoveOn is trying to expand the map. In another team-up of sorts with PCCC and Mayday, it's organizing members to make phone calls into South Dakota on behalf of Rick Weiland, the Democratic candidate who has flown under the radar all year. "MoveOn is shifting tens of thousands of volunteer calls to South Dakota from Michigan," said the group in a statement, "a race in which the MoveOn-endorsed Gary Peters has secured a strong lead in polls causing the National Republican Party to pull support from his Republican challenger, Terri Lynn Land." Trolling MoveOn ain't what it used to be.
*MoveOn was 20 years late to that attack. Walter Mondale deployed the same argument against Ronald Reagan, to little success.