Rutgers Business School Accidentally Hits an Elusive Diversity Benchmark
by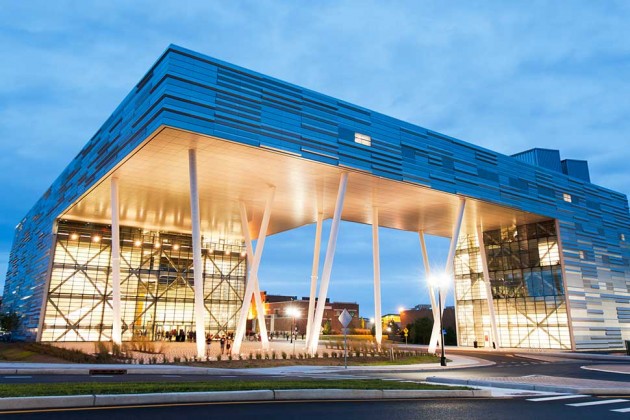 Rutgers Business School just achieved something Harvard Business School, the University of Pennsylvania's Wharton School, and other elite business schools haven't been able to: gender parity in its student body.
The school's new class of full-time MBAs is 51 percent female. By comparison, the average share of women MBAs across North American business schools is 37 percent, according to the main accrediting body for U.S. business schools. That's despite well-publicized efforts by HBS and other schools to inch their share of women above 40 percent.
It should be noted that New Jersey-based Rutgers's MBA program is relatively small—its new class of students numbers just 79. Top U.S. business schools have classes that range in size from around 175 to 900. The surge in female MBA candidates is noteworthy for Rutgers, which had never seen more women than men enrolled in its MBA program before this year, and in 2013 had a class that was 39 percent women.
There are few clues as to why the business school is suddenly seeing more women on campus. The school noticed that the number of women MBAs from outside the U.S. rose to 19 this year from nine last year, according to Rita Galen, the school's assistant dean and director of graduate admissions. That's not the result of any specific outreach to international women or women in general, however. Rutgers doesn't "do special recruiting for women," Galen says.
"Maybe it's because big schools with big endowments are intimidating," Galen says to explain the school's appeal to women. "Our class is 79. Theirs are 500; 1,000. We want to shake your hands at graduation."
Of course, it's impossible to prove the campus atmosphere there is better for women than what one might find at a bigger business school. Schools such as HBS have tackled gender inequality in recent years, even going so far as to put stenographers in classrooms to ward off unfair grading. They've also graduated among the most powerful women in corporate America: Hewlett-Packard Chief Executive Meg Whitman (HBS), General Motors CEO Mary Barra (Stanford Graduate School of Business), and Mondelēz International CEO Irene Rosenfeld (Johnson Graduate School of Management), to name a few.
Yet elite schools have struggled to enroll the same number of women as men. At the top 25 U.S. MBA programs ranked by Bloomberg Businessweek, women are in the minority.
What's keeping the country's top business schools from hitting the numbers that Rutgers Business School lucked into? Some of it boils down to admissions criteria. At the Booth School of Management, Bloomberg Businessweek's top-ranked MBA program, for instance, where women make up 36 percent of its newest MBA class, the average score on the Graduate Management Admission Test, the widely used MBA entrance exam, was 724, compared with Rutgers's 646. Rutgers Business School ranks 61st on Bloomberg Businessweek's list.
Just 8,556 women who took the GMAT last year achieved scores that would put them in the ballpark of Booth's average, compared with 16,393 men, according to data from the Graduate Management Admission Council, the group that administers the GMAT. Rutgers Business School has a larger pool of women to choose from: 26,998 scored between 600 and 690.
"The women who are very qualified are scarce, so everyone is competing for them," says Stacey Kole, deputy dean for the full-time MBA program at Booth. Other schools with higher percentages of women may be "trading on different margins in terms of ages [of candidates] and scores."
The disparity between women and men poses a challenge to schools like Booth: "How do we collectively get this pool to grow so there are more women who can fully leverage the experience of business schools?" Kole says.
By one metric, Rutgers has worked something out that much wealthier schools are still grappling with. It's not clear if the things Rutgers believes draw women to its program—congenial community members, warm faculty—are a unique prescription that would get higher-ranked schools to gender parity.
"When people come to our school, I think they see we have a very friendly and relaxed atmosphere. People say we're really helpful," Galen says.
Before it's here, it's on the Bloomberg Terminal.
LEARN MORE