Merkel Eyes Multinational Power Market to Cut Renewables Cost
Brian Parkin and Stefan Nicola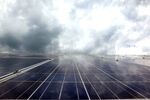 Germany wants to cut the cost of its unprecedented switch from nuclear to renewable energy -- and is now turning to its neighbors for help.
Europe's biggest energy market has started talks with all the countries it borders about closer power-market cooperation to save money when it comes to maintaining spare capacity, according to two people close to Chancellor Angela Merkel's government. The country's Economy Ministry confirmed the talks, declining to give more details.
Germany got positive replies from the Netherlands and Austria at least, said one of the people, who asked not to be named because the talks are private. Germany also wants the European Union to help finance infrastructure for cross-border power flows, so-called interconnectors, one of the people said.
"Closer cooperation between Germany and its neighbors can increase overall supply security and reduce its cost," said Patrick Graichen, head of Agora Energiewende, a researcher owned by the Mercator Foundation and European Climate Foundation. "It requires more than memorandums of understanding to make such cooperation work, as all participants enter mutual dependencies."
Germany is debating how to redesign its power market amid a surge in generation from wind and solar plants that don't produce around the clock. Utilities including EON SE and RWE AG are battling falling profits as renewable power floods the market, depressing prices. The country has eyed the introduction of a so-called capacity market to remunerate utilities for operating plants that supply electricity when the wind doesn't blow and the sun doesn't shine.
Reduced Costs
Closer cooperation with Germany's neighbors could reduce the cost of a national system or even replace it, said one of the people. The German push comes as the EU seeks to complete integration of its gas and electricity market to help shift to a low-carbon economy and to boost security of supply amid the Russia-Ukraine crisis.
Leaders of the EU's 28 nations will back efforts to develop interconnections and modernize infrastructure when they meet at an Oct. 23-24 summit in Brussels, according to draft guidelines for the gathering obtained by Bloomberg this week.
Teaming with Alpine and Scandinavian countries that have cheap hydropower sources could reduce the need for spare capacity, one of the people said. Excess electricity produced at night by wind turbines in northern Germany could be sent to foreign hydro plants that store it and send it back the next day, when demand picks up.
While Germany has previously helped France secure peak load in the winter, Germany could benefit in the medium term from Dutch natural gas plants when renewables don't produce, Graichen said.
Before it's here, it's on the Bloomberg Terminal.
LEARN MORE