LNG Buyers Pact Signals Assault on Asia Prices as Supplies Swell
Chou Hui Hong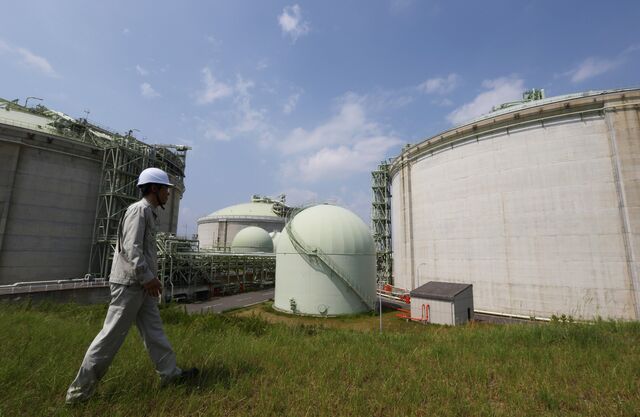 LNG producers facing competition from U.S. exports now have to contend with the biggest buyers in Asia banding together to beat down prices.
Tokyo Electric Power Co. and Chubu Electric Power Co. announced a partnership this week that may create the world's biggest consumer of liquefied natural gas. The alliance follows a trend among Asian utilities to boost purchasing power through tie-ups with rivals, according to Wood Mackenzie Ltd. Tokyo Gas Co. and Korea Gas Corp. last month said they'll start talks to cooperate in fuel purchasing to reduce prices.
Global supply of the power-station fuel is forecast to increase by almost 80 percent over the next decade as the shale boom prompts the U.S. to start exporting and producers including Chevron Corp. and BG Group Plc begin projects in Australia. Asian companies are looking to take the opportunity to bargain for lower prices after they jumped to a record this year.
"The sheer volume of potential purchasing power must give them a huge negotiating advantage for price in new sales and purchase agreements, particularly as they are looking to new projects in Mozambique, Canada and now Alaska," said Leigh Bolton, managing director of Holmwood Consulting Ltd., a Surrey, England-based energy consultant.
Tepco and Chubu Electric, Japan's two biggest buyers, will form a joint venture by the end of March for thermal-power generation and fuel imports, they said in a statement on Oct. 7. This will improve their bargaining position with suppliers, according to Chubu Electric President Akihisa Mizuno.
Global Purchasing
A joint company set up to coordinate such a broad range of worldwide fuel purchasing is a first, according to Yoko Nobuoka, a Tokyo-based analyst at Bloomberg New Energy Finance. "The advantages in negotiation of price and contract terms will be more visible for new and renewed contracts after 2018," Nobuoka said.
The venture may purchase 35 million to 40 million metric tons a year, according to the statement, rivaling Korea Gas as the largest importer of the fuel that's the dominant energy source in Japan. That's almost half the nation's annual use.
"The announcement appears similar to one or two others we've seen recently and is representative of the way we are seeing major buyers looking to put more pressure on sellers on price and contract flexibility," Gavin Thompson, Wood Mackenzie's Tokyo-based head of Asia gas and power research, said in an e-mail.
New projects will boost global supply to 425 million metric tons by 2025 from the current level of 240 million, according to BG estimates as of Sept. 17. The Reading, England-based company plans to produce the first LNG at its Queensland Curtis plant in Australia by the end of 2014.
Delays, Cancellation
U.S. exports starting next year won't be enough to meet rising demand for the fuel in Asia and Europe through 2025, requiring additional volumes from other locations such as Canada and East Africa, according to BG. Mark Todd, a spokesman for the company, confirmed the forecasts in an e-mail yesterday, without further commenting.
Projects in Africa, Canada and Australia face delays or even cancellation as global demand growth slows and U.S. output increases, Goldman Sachs Corp. said in a report e-mailed on Oct. 2. The bank cut its forecast for worldwide consumption to 5 percent on an annual compound basis by 2020, and 4 percent by 2025. It previously saw growth of 6 percent and 5 percent, respectively.
Asia accounted for three-quarters of global demand last year, according to the Paris-based International Group of LNG Importers. Japan imported a record 87.49 million tons in 2013 after the Fukushima disaster in 2011 prompted the shutdown of all its nuclear plants. It spent a record 7 trillion yen ($64.9 billion) on LNG imports, more than double the cost three years ago, according to the Ministry of Finance.
Peak Price
Spot LNG delivered to northeast Asia rose to a peak of $19.70 per million British thermal units in February as Japan entered its main demand season without any of its nuclear reactors operating, according to data from Energy Intelligence Group's World Gas publication.
Prices may top $20 per million Btu this winter if there's a cold spell in northeast Asia combines with disrupted flows of Russian gas to Europe, Energy Aspects, a London-based consultant, said in an e-mailed note Sept. 25. It forecast Northeast Asia prices at $16.50 for the last quarter this year and $15.10 for 2015.
The Japanese utilities will still need to compete with each other in the domestic power market, according to Thompson. "Power-market liberalization will only increase this, so it will be interesting to see how durable these partnerships prove to be," he said.
Before it's here, it's on the Bloomberg Terminal.
LEARN MORE