Iowa's Joni Ernst Reports Record $6 Million Haul in Third Quarter
By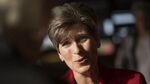 Joni Ernst, Iowa's Republican Senate nominee, reported raising about $6 million during the third quarter, likely more than double the total of her opponent, Democrat Bruce Braley.
It's an impressive performance in the battleground state, especially considering that her opponent is a member of the House and has the built-in fundraising network that post provides.
Ernst's campaign said her total was an all-time Iowa record for the amount raised by a statewide candidate in one quarter. The state senator started October with $3.2 million cash on hand, her campaign said.
Braley's campaign told the Des Moines Register last week that he's expecting to report about $2.8 million raised during the third quarter. A Braley campaign spokesman didn't immediately respond to a request for comment.
The congressman will be joined Friday afternoon by first lady Michelle Obama for a campaign rally in Des Moines. Ernst is getting a Sunday-Monday visit from 2012 Republican nominee Mitt Romney. In between those two surrogate visits, the candidates will face off Saturday evening for their second of three debates.