IMF Urges BOJ Pragmatism on Meeting Inflation Timeframe
Toru Fujioka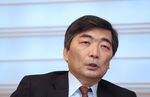 The Bank of Japan won't reach its 2 percent inflation target next year and needs to manage expectations, according to the International Monetary Fund.
"The BOJ hasn't lowered the flag on that yet," Naoyuki Shinohara, a deputy managing director at the IMF, said in an interview in Washington. "That can affect the trust in a central bank so they have to handle their communications well."
Dissent on the inflation outlook is spreading inside the BOJ, with board member Sayuri Shirai objecting to language in its policy statement and a majority said to favor ditching the current timeframe at some point. While the bank's record monetary easing is having an impact on price expectations, these won't rise to 2 percent until 2017 or later, Shinohara said.
When Governor Haruhiko Kuroda introduced stimulus in April 2013, he said the BOJ aimed to meet its inflation target "at the earliest possible time, with a time horizon of about two years." More recently, Kuroda has said the bank sees a high possibility of achieving the target during the fiscal year starting April 2015.
The U.S. Federal Reserve and Bank of England have delivered very detailed communication on their exit strategies from current policies and the BOJ could do the same on inflation, said Shinohara, a former vice finance minister in Japan and executive director at the Asian Development Bank.
"There is the need to be more creative on that point," he said.
Yen Slump
Strength in the dollar is behind the slump in the yen and is part of a natural foreign exchange market, according to Shinohara.
The currency traded at 107.82 per dollar at 2:13 p.m. in Tokyo, after touching 110.09 on Oct. 1, the weakest since 2008.
While the yen's decline to a six-year low helps the BOJ in stoking price gains needed to reflate the world's third-largest economy, it's also sparked concern that the rapid drop can be harmful.
BOJ board members are concerned that investors may view April 2015 as a binding deadline on the inflation target, fueling speculation that the bank will boost stimulus to meet the goal, people familiar with talks at the bank have told Bloomberg News.
Any revision will probably come before April and could be as early as this quarter, some of the people said.
Stripping out the impact of a sales-tax increase and fresh food, prices increased 1.1 percent in August from a year before.
Before it's here, it's on the Bloomberg Terminal.
LEARN MORE