Houston Issues as Many Single-Family Housing Permits as All of California
By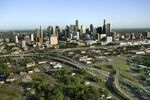 One of Houston's biggest supporters, the economics writer Joel Kotkin, acknowledges that the city has a "cruddy reputation.' It's the only major U.S. city without a formal zoning code, which means you can find strip clubs next to churches and oil derricks in residential neighborhoods. But say this for Houston: It's booming.
In August, the most recent month for which figures are available from the U.S. Census Bureau, metro Houston (including Sugar Land and the Woodlands) issued more permits for construction of single-family homes than did the entire state of California, which has six times the population. And that was no fluke. Houston and California have been running neck and neck in permit issuance since 2000, with California running just about 3,000 permits ahead in that time.
That's a remarkable statement about both demand (people really want to live in Houston) and supply (the city is happy to accommodate them). California is a different story. What UCLA's Anderson School of Management called a "painfully plodding" economic recovery has damped the appetite for home buying, and strict land-use rules aimed at controlling sprawl make permits hard to get. "If you don't have housing, you can't do labor," Chris Thornberg, principal at Beacon Economics, a Los Angeles-based research and consulting firm, told Bloomberg News. "If you can't do labor, you are missing a major ingredient for economic growth."
Kotkin noted in a blog post on Thursday that while Houston doesn't attempt to prevent sprawl through zoning, it has a vibrant downtown: "Arguably no inner ring in the country has seen more rapid growth, with high-rise, mid-rise and townhouse development in many long neglected districts. The increase in high-density housing tracts (more than 5,000 per square mile) since 2000 has been almost ten times higher than the Bay Area."
"Revealingly," Kotkin writes, "Houston actually has seen far more rapid growth in both college-educated and millennial population since 2000 than the Bay Area, as well as New York, Chicago, and Los Angeles." Yet the growth has been inclusive. In Houston, he adds, "homeownership among African Americans stands at 42 percent and for Latinos at more than 53 percent; this compares to 32 and 37 percent in the Bay Area."
Houston isn't quite the zoning-free city that Houstonians themselves sometimes make it out to be. As a website called the Objective Standard notes, "The city has gradually enacted measures such as billboard restrictions, preservation ordinances, landscaping ordinances, and other controls on land use—measures that, if not stopped and reversed, will ultimately add up to a full-fledged zoning plan. In other words, Houston, the city famous for its absence of zoning, has a zoning problem."
Just this week the Houston City Council gave homeowners more power to keep out development they dislike. Part of an area known as Riverside Terrace, described by a councilman in the Houston Chronicle as a rebound neighborhood "with large lots, mature trees and a view of the downtown skyline," will be the first place where homeowners can use a new city code provision to fend off higher-density development.
Before it's here, it's on the Bloomberg Terminal.
LEARN MORE