Grayer Obama Goes Back to His Youth Base in Midterm Pitch
Voters under 30 could help Democrats retain control of the Senate in midterm elections, but the challenge for President Barack Obama and his party is to convince them they've benefited from his leadership and get them more interested in casting ballots.
By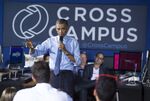 Looking for ways to campaign for Democrats in next month's midterm elections without inadvertently dragging down individual candidates with his own low ratings, President Barack Obama has decided to try to rekindle the flame with a group that was once among his most enthusiastic constituencies: voters under 30. 
Cue his town-hall meeting Thursday with so-called millennials at Cross Campus, a sort of co-op space for young entrepreneurs and freelancers in Santa Monica, California.
Obama made the rounds of work stations, flattering the featured inventors and asking them about their products and talking about his unequivocal commitment to net neutrality, something you don't hear much in visits to senior centers. 
"Entrepreneurship is in the DNA of this generation," Obama said. "If I'm an investor, my question is, how are you making money?" he asked the developer of an energy-efficiency marketing platform.
"I train people in mindfulness meditation," a female entrepreneur told him, to which he was quick to answer: "I need that." And in a telling moment, the 53-year-old president started to tell a developer of software for community groups that he could have benefited from such technology in his pre-politics work as a community organizer. Except, he said, "There was no internet really at the time so it wouldn't have worked as well."
This was Obama's first stop in a three-day trip to California built around Democratic Party fundraising.
Ahead of the town-hall event, the administration issued a report listing the things Obama has done for young people: expanding assistance for college tuition, deferring deportations of young undocumented immigrants, investing in research, and raising to 26 the age kids can stay on their parents' health insurance. Asked about the prospects for an immigration bill, Obama dodged, and said for Republicans in the long term "it is suicide for them not to do this" while it may be tough for them in the short term.

Obama also brought a list of things he's called for that appeal to young people and that Republicans in Congress have resisted, such as raising the minimum wage, and expanding the Earned Income Tax Credit for workers without children.  "We can manage the country's finances while still investing in you," Obama told the entrepreneurs. 
Using the economy to appeal to young people is a tricky proposition, given the disproportionate hit they faced in entering the workforce in the aftermath of the 2008 financial crisis. While the overall unemployment rate has shrunk to around 6 percent, millennial unemployment remains close to 9 percent.
Obama's approval rating among 18-to-29- year-olds in the latest Harvard University Institute of Politics poll released in April stood at just 47 percent, up from a low of 41 percent the previous November but far below his 58 percent high in November 2009.
That survey found young Americans, like their older counterparts, divided along racial and ethnic lines. Obama's approval rating was just 33 percent among young whites, while 60 percent among young Hispanics and 83 percent with blacks.
Meanwhile, just 23 percent of those under 30 said they'd definitely vote in this year's midterms, down from 31 percent in the 2010 midterms—with a higher enthusiasm among those who back Republicans.