Ebola in Spain Doesn't Deter Tourists Even as Investors Flee
Macarena Munoz and Charles Penty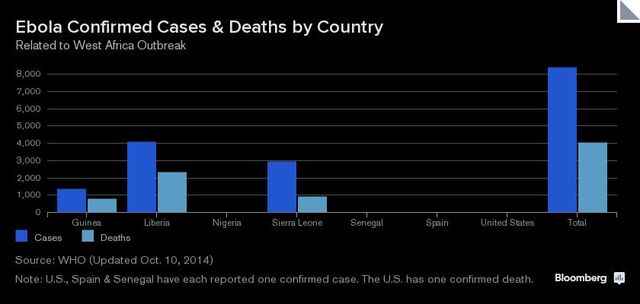 Ruth Almijos, a 64-year-old Ecuadorian tourist in Madrid, says she isn't worried about an Ebola outbreak in Spain.
"It's a very isolated case and it seems to be well-controlled," Almijos, who's visiting a friend in the Spanish capital, said in an interview yesterday. "I hope a mass psychosis doesn't spread around with people being afraid."
With Teresa Romero, 44, a nursing assistant who helped care for two Spanish missionaries with Ebola becoming the first person known to contract the disease outside Africa, Prime Minister Mariano Rajoy felt compelled to appeal for calm.
Not letting the case drive away visitors is key for Spain, which received almost 61 million international tourists in 2013, according to World Tourism Organization data. Tourism contributes 6.4 percent to Spanish economic output and generates 5.1 percent of employment in the country, according to WTO data.
Already, the stock market has taken fright. Since news broke of Romero's diagnosis on the evening of Oct. 6, NH Hotel Group SA has fallen more than 11 percent and International Consolidated Airlines Group, which includes the Spanish carrier Iberia, is down 12 percent.
"It's a sector that always reacts badly to this type of health-related news," said Antonio Hormigos, head of investment management at Mirabaud Asset Management in Spain.
Romero remains in a serious but stable condition at the Carlos III hospital in Madrid, a hospital spokeswoman said. Her case highlights the challenges facing governments to contain a disease that has killed more than 3,800 people in West Africa.
Reassuring Message
The Spanish government has sought to reassure visitors. Jose Manuel Soria, Spain's industry, tourism and energy minister, said yesterday that the country's public health service is one of the most robust in the world.
Some of that message may be getting through.
Jose Luis Zoreda, executive vice-president of the Spanish tourism operators association Exceltur, said yesterday in Madrid that the industry doesn't foresee a slowdown in activity because of Ebola and added that some large tour firms have seen increased bookings over the past two days.
Edream Odigeo SL, an online travel company based in Barcelona, said in a statement today that there had been no sign of changes in reservations by customers.
"The maintenance of normalcy in the great number of transactions registered with Spain as the destination, as one of the top tourist destinations, confirms that travelers are not showing alarm," said Javier Bellido, general director for its Spanish business in an e-mailed statement today.
Joe Behrmann, 40, from Missouri, who is visiting Spain and Portugal for 14 days with Kevin Bayer, 40, said Ebola in Spain isn't a matter of concern for him.
"The risk of dying from Ebola is lower than dying from flu," he said in an interview in Madrid yesterday. "Anyway we are not going to be near risky places such as hospitals."
Before it's here, it's on the Bloomberg Terminal.
LEARN MORE