Coca-Cola Hits Record as Investors Seek Safety
Duane D. Stanford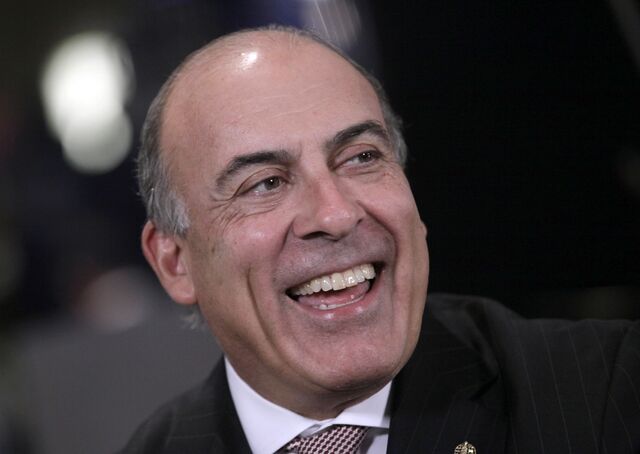 Coca-Cola Co. shares are hitting record prices for the first time in more than 16 years as investors seeking safety in stable stocks disregard the company's recent struggles.
The world's largest soft-drink maker set all-time intraday highs three days this week, including a new record of $44.87 yesterday in New York. Before this week, Coca-Cola's last record was on July 15, 1998, when the stock reached $44.47, adjusted for a subsequent split.
The milestone may seem curious at a time when Chief Executive Officer Muhtar Kent is under fire for trimming expenses too slowly and consumers are abandoning soft drinks because of concerns about obesity and perceived health risks posed by artificial sweeteners. Yet investors are betting that Kent is on the cusp of a major cost-cutting spree and that a stock good enough for billionaire Warren Buffett will be a haven from the market's recent volatility.
"Investors have seen that Coke's back is against the wall," Ali Dibadj, a New York-based analyst at Sanford C. Bernstein & Co., said in an interview. "People believe they will be able to do things differently, and cut costs in particular."
Coca-Cola's shares gained 3.4 percent this week while the Chicago Board Options Exchange Volatility Index surged 46 percent. Other stocks that climbed amid the turbulence include Wal-Mart Stores Inc. and Procter & Gamble Co.
Yet no matter how well Coca-Cola's shares have done recently, they've still underperformed smaller rival PepsiCo Inc.. Atlanta-based Coca-Cola has gained 7.6 percent this year while PepsiCo has advanced 14 percent.
Nooyi's Cuts
PepsiCo's rally follows a pledge by CEO Indra Nooyi to cut $5 billion in costs over five years starting in 2015, extending a plan already under way. The world's largest snack maker and second-largest beverage company this week posted third-quarter profit that topped analysts' estimates and raised its earnings forecast for the year.
Coke's Kent, meanwhile, has been less aggressive with the knife. In February, Kent posted the fourth straight quarter of declining sales after sluggish growth overseas and concerns about the healthiness of its product at home. Kent responded with a plan to trim an additional $1 billion in costs by 2016 that would be plowed mostly into increased media marketing.
Investors weren't impressed with the results or the cost-cutting target, sending the stock on its biggest one-day decline in more than two years.
Investors Disappointed
Coca-Cola again disappointed investors in July, when it reported and a 3 percent drop in net income and revenue that was less than analysts expected.
"They know they've been suffering, and they know their performance has been very weak," Dibadj said. "Management should be and probably is under pressure."
Ann Moore, a spokeswoman for Coca-Cola, declined to comment.
Beyond cutting costs more deeply, Kent may move faster to sell portions of the asset-heavy distribution system he took in-house in 2010, Dibadj said. The company may continue to raise prices methodically, while avoiding panicky price cuts intended to stoke demand, he said.
"We believe Coca-Cola is well positioned to continue to grow and take global share of nonalcoholic ready-to-drink beverages," Bonnie Herzog, a New York-based analyst for Wells Fargo & Co., said in a note this week. "Over the long term, Coca-Cola is one of the best-positioned companies to deliver consistent shareholder value."
Coca-Cola Valuation
Even after this week's run-up, the stock price is far lower relative to its earnings than during its previous streak of records. Coca-Cola closed yesterday at about 22.8 times earnings. At the 1998 high, the stock was trading around 59 times earnings.
Coca-Cola showed a willingness to adapt to pressure last week. The board, on which Kent serves as chairman, reined in a stock-compensation plan called excessive by Buffett, its largest shareholder, and other investors. David Winters, who runs Wintergreen Advisers LLC, had lobbied against the plan, calling it a "raw deal" for shareholders that was too generous and diluted the stock.
The recent share-price records are welcome news for a company that has spent the better part of 16 years recovering from the disastrous period that followed its previous peak. Thousands of employees were axed to cut costs as sales slowed, two CEOs were fired and the company settled one of the largest class-action racial discrimination suits in history.
New Products
Coke has since boosted revenue even as Americans drink less soda. It added faster-growing products like Vitaminwater and Monster energy drinks to its distribution system, while delving into emerging technologies like at-home soda makers. Coke also never stopped its aggressive overseas expansion.
Tom Haynes, a beverage adviser and former executive director of the Coca-Cola Bottlers' Association, gives Kent credit for successfully navigating Coke through a recession, global unrest and declining soft drink sales in the U.S., one of its most profitable markets.
"Muhtar's two predecessors never got within shouting distance of that share price," Haynes said. "Frankly, it's an endorsement of his leadership."
Before it's here, it's on the Bloomberg Terminal.
LEARN MORE