Beijing Aims to Reduce Hazardous Smog Ahead of APEC
By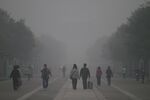 Beijing is on its third day of hazardous levels of smog, and apparently authorities are getting worried. State media have called it the worst air pollution in the capital in about six months, and children and the elderly have been warned to stay inside.
Unlike Beijing's typical lung-choking haze, this bout is making officials particularly nervous. Twenty-one heads of state, including U.S. President Barack Obama and Chinese President Xi Jinping, will come to town for the Asia-Pacific Economic Cooperation's Economic Leaders' Meeting in November. City officials would like them to be able to breathe when they get there, and air pollution was a major topic when Beijing's leaders met on Wednesday to discuss preparations for the upcoming confab.
"Beijing will make every effort to prepare for the APEC meeting, and we need to control air and water pollution," said Guo Jinlong, the city's Communist Party chief, reported China Daily on Friday.
Plans call for taking drastic steps similar to those used in the capital during the 2008 Beijing Olympic Games. From Nov. 3 to 12, authorities will restrict Beijing's more than 5 million private vehicles from driving on alternate days. That will reduce the number of cars on the road by 35 percent, the Beijing Traffic Management Bureau said yesterday.
To deal with an expected surge of 3 million additional passengers on public transport every day, 400 extra buses will be added to the city streets. Meanwhile, from Nov. 7 to 12, many government offices and agencies will close, as will the city's public schools.
Beijing also has a serious dust problem, so construction and demolition work will be halted during the meeting, and a number of companies will be ordered to stop business, according to the official English-language newspaper.
Meanwhile, the city of Tianjin, as well as the heavily industrialized neighboring provinces of Hebei, Shanxi, and Shandong, will put in place strict pollution control measures, China Daily reported, without providing detail. "Beijing will work with its neighbors to control emissions," said Zhuang Zhidong, deputy director of the Beijing Municipal Environmental Protection Bureau.
Before it's here, it's on the Bloomberg Terminal.
LEARN MORE