A Beer Growler Battle Is Brewing in Florida
By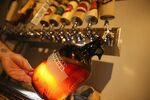 In Florida, the refillable beer jugs known as growlers are the subject of an unlikely legislative battle. Under current law, breweries can sell beer in quart and gallon-size containers, but they can't fill a half-gallon bottle. Craft brewers want to end the ban. The big beer industry, led by a Budweiser distributor, wants to keep it.
Now a lobbying group for Florida distributors who sell brews from MillerCoors and other large (non-Bud) beermakers is making what looks like a peace offering. In a video posted to its website Thursday, the Beer Industry of Florida promised its support for ending the ban: "We're mobilizing an industrywide coalition to make this new container size legal, no strings attached," says the narrator of the video.
As political issues go, this may seem like small beer. But the growler ban has attracted enough attention that Governor Rick Scott, a Republican who's up for reelection, and Charlie Crist, his Democratic challenger, have taken positions on growler sales. (They're both for them.) An earlier attempt to end the ban was scuttled when lawmakers, acting at the behest of big beer interests, weighed down a bill to repeal the growler ban with new restrictions on brewery sales.
The shift in support from some distributors may be a sign of microbreweries' growing economic clout. Sales of domestic light beers are expected to hit a 10-year low in 2015. Craft sales, on the other hand, are increasing. There were 66 craft breweries in Florida last year, according to the Brewers Association, an industry group. And distributors can earn a higher markup selling craft beer, according to the Beer Industry of Florida's growler video.
Then again, it may be too soon to read the group's video as evidence of a truce between small brewers and distributors for big beer brands. The video warns against lifting restrictions on breweries selling directly to the public—cutting distributors out. Direct sales could inflate a "beer bubble," distributors warn, that hurts retailers and feeds social ills, including "over-consumption, increasing addiction, domestic violence, [and] drinking and driving." If there's a truce in the growler war, it's still an uneasy one.
Before it's here, it's on the Bloomberg Terminal.
LEARN MORE