What's Going on With Kim Jong-un? A List of Theories
We sifted through all the North Korean intrigue so you don't have to!
By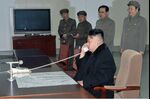 Kim Jong-un, the 31-year-old leader of North Korea, has been missing for over a month, creating the perfect breeding ground for conspiracy theories. While U.S. and South Korean analysts believe the young leader is sick — he has a family history of diabetes, gout and high blood pressure — the international community has heard from a number of sources (of various level of reliability) claiming he's sick, deposed, or just fine.