What's Going on With Kim Jong-un? A List of Theories
We sifted through all the North Korean intrigue so you don't have to!
By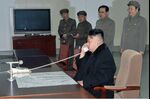 Kim Jong-un, the 31-year-old leader of North Korea, has been missing for over a month, creating the perfect breeding ground for conspiracy theories. While U.S. and South Korean analysts believe the young leader is sick — he has a family history of diabetes, gout and high blood pressure — the international community has heard from a number of sources (of various level of reliability) claiming he's sick, deposed, or just fine. 
Here's what we do know: according to state-run media, Kim was last seen on September 3 attending a concert with his wife. Since then the media hasn't reported on his whereabouts. He missed a meeting of the Supreme People's Assembly and instead appeared in a documentary aired on state-run TV showing him looking much heavier and sporting a limp. Last Saturday, the two officials seen as second and third in command after Kim went to South Korea for high level talks, which either gives more credibility to rumors he's been deposed or that he's still firmly in power. Now everyone is waiting to see if Kim makes an appearance on Friday, the 69th anniversary of the founding of the Workers' Party. 
Until then, here's what people suspect:
He's sick.
This is, by far, the least far fetched theory on this list. Kim has a family history of diabetes, gout, and high blood pressure, and South Korea thinks he could be suffering from any combination of those disease, plus obesity. An anonymous source told South Korea's Yonhap News Agency that it's the rich man's disease. "Kim Jong-un is suffering from gout, which is why he is limping on both legs," the source said. "I understand that he is suffering from gout along with hyperuricemia, hyperlipidemia, obesity, diabetes and high blood pressure."
But four days later, in a September 30 report from South Korea's Chosun Ilbo "a source claimed" that Kim was recovering from surgery on both ankles. "I heard that Kim Jong-un injured his right ankle in June after pushing ahead with on-site visits and ended up fracturing both ankles because he left the injury unattended," that source said. And another source told Reuters on Thursday that Kim hurt himself doing military exercises. "He injured his ankle and knee around late August or early September while drilling because he is overweight. He limped around in the beginning but the injury worsened," the source told Reuters.
So far, the country's state-run TV has only mentioned that he's suffering from "discomfort." Whatever the cause of said discomfort, it seems likely that he is recovering from something. South Korea's Defense Minister Han Min-koo said Tuesday at a parliamentary hearing that the country believes Kim is "at a certain place north of Pyongyang." The minister didn't elaborate, but that been taken to mean that Kim is recuperating in one his family homes, according to The New York Times. 
There's been a coup.
For a while, the big theory on Weibo (a Chinese social media site) was that Kim had been overthrown by Jo Myong Rok. The problem with that theory is that he died several years ago, and even China's communist party-run paper Global Times had to weigh in. "Netizens who have a radical opinion can't represent the opinion of China and China's attitude toward North Korea was not changed," an op-ed in the paper read.
Still, it's been reported that there's a hold on travel passes in and out of Pyongyang, even for permanent residents, which might mean that there's been an attempted coup. "This sort of action suggests there has either been an attempted coup or that the authorities there have uncovered some sort of plot against the leadership," Toshimitsu Shigemura, a professor at Tokyo's Waseda University told The Telegraph last week. Shigemura said that Kim had been moved out of the capital. 
Jang Jin-sung, a North Korean defector who help Kim Jong-Il with propaganda, claims that Kim Jong-un was never really in power at all. Instead the country has been run by members of the Organization and Guidance Department. This week he told CNN that the Kim is a "puppet," who didn't inherit their loyalty when he became the Supreme Leader. The OGD, he said, "are calling the shots, and not the words of one man they do not know." Victor Cha, a Georgetown professor, told CNN that the "puppet leader Kim" theory isn't new, and that one sign of the OGD's power is the fact that sometimes the state's propaganda pictures show unflattering pictures of him. 
His sister is in charge.
If Kim is sick, then his sister Kim Yo Jong has taken over control in his place, which might mean things are pretty bad in North Korea. "If in fact she is running the country — as someone in their early to mid twenties, to me that is quite alarming," Cha told CNN. "It means there is something seriously wrong with Kim Jong Un and there is some sort of void that they're desperately trying to fill." According to The Global Post, Yo Jang went to boarding school in Switzerland with her brother and has gained a more prominent role in her brother's cabinet in recent years. 
This is just propaganda from North Korea's enemies.
That's North Korea's point of view, anyway. Kim Yang-gon, one of the three high-ranking officials that visited South Korea last Saturday, told officials there that there was "no problem at all" with Kim's health, according to The New York Times. Instead, this is all an attempt from the country's enemies to undermine the government with rumors. Given the number of competing theories from anonymous sources, this isn't the least credible theory. 
Nothing. 
And here's the least sexy theory: literally nothing is wrong with Kim Jong-un — there was no coup, he hasn't been replaced, and he's not even sick. He's just out and about. "Kim Jong-un's disappearing act over the past month, in the North Korean context, is not an aberration," Lee Sung-yoon, a North Korea expert at Tufts University told The New York Times this week. "Such vanishing acts would be most unusual in democracies, but in totalitarian North Korea, Kim is the state. He is free to come and go as he pleases."