Sistema Travails Layer Company Risk on Top of Putin Woes
Ksenia Galouchko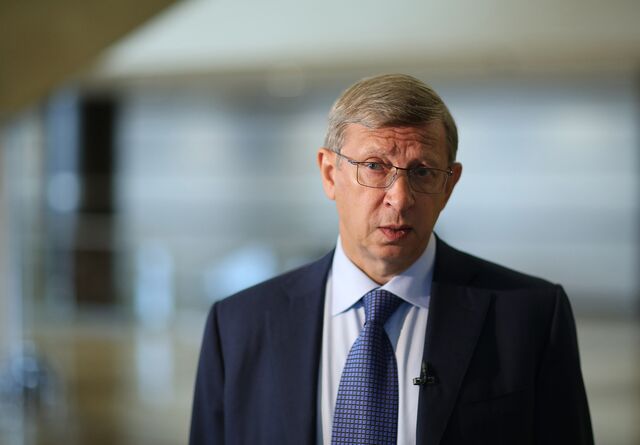 If U.S. and European sanctions weren't doing enough to discourage foreign investment in Russia, billionaire Vladimir Evtushenkov's travails with AFK Sistema are adding another layer of discomfort in the market.
The yield on Sistema's 2019 dollar bond lurched 94 basis points higher yesterday as prosecutors said they may widen claims against the company, which is already battling the state to keep hold of its stake in oil producer OAO Bashneft. While measures of sovereign-credit risk are little changed since Sept. 16, when Evtushenkov was placed under house arrest, state interference in corporate Russia is another headwind for the economy, said Dmitry Postolenko at Kapital Asset Management LLC.
"In another situation, this would've caused a market collapse but since Russia is already such a risky asset, there's nowhere to fall," Postolenko, a money manager at Kapital, which oversees $3 billion in assets, said by phone from Moscow Oct. 8. "Sistema's case increases the risk of investing in Russia."
Evtushenkov's plight is taking some investors back to 2003 and the arrest of Mikhail Khodorkovsky, which preceded the dismantling of his Yukos Oil Co. Russia's economy is already reeling from sanctions introduced in response to Putin's annexing of Crimea and support for rebels in east Ukraine. The ruble is trading at a record low, while gross domestic product is predicted to expand this year at the slowest pace since 2009.
Yukos Comparison
Khodorkovsky spent a decade in prison for tax evasion, money-laundering and oil embezzlement until his release in December and now lives in Switzerland. He said that OAO Rosneft Chief Executive Officer Igor Sechin, a long-time ally of Russian President Vladimir Putin, may have engineered the arrest to pressure Evtushenkov into selling his oil company, according to a Sept. 17 website statement. Rosneft and Sechin have denied any interest in Bashneft.
Evtushenkov is facing accusations of alleged money laundering, which stem from a probe into the privatization of Bashneft in 2003, which prosecutors say was carried out without the authorization of the state. Sistema, which rejects the charges, acquired the oil producer between 2005 and 2009.
His arrest has heightened a feud between rival pro-Putin groups, according to five officials with close ties to the President, who declined to be identified discussing internal issues. Evtushenkov is closely aligned with Prime Minister Dmitry Medvedev and his allies, according to the people. They are at odds with the "siloviki," a group of powerful policymakers who share a security-service background.
No 'Review'
Putin said at a conference on Oct. 2 that there wouldn't be a "mass review" of state asset sales and that he won't intervene in individual cases, in response to a question about the prospects for Bashneft returning to state ownership.
Investors have been thumped by the affair, with the yield on Sistema's 2019 bond more than doubling since Sept. 16 to 15.78 percent yesterday, while 210 billion rubles ($5.3 billion) was wiped from its stock-market value. That makes the bonds the worst performers in the period among 967 emerging-market corporate dollar notes in a Bloomberg index.
Sistema's bonds fell for a third day today, lifting the yield 247 basis points to 18.25 percent, a record high, as of 2:59 p.m. in Moscow.
Sistema hopes for a "positive resolution" to the situation and is "confident" that the market will react favorably, the company's press service said yesterday by e-mail.
"Sistema's case signals risks that all Russian bondholders face," Evgeny Shilenkov, the head of trading at Veles Capital LLC in Moscow, said by phone Oct. 7. "This case throws a shadow on Russian business. This investigation was a real surprise."
'Someone Above'
The Moscow arbitration court yesterday rejected a call from investigators to seek 190 billion rubles from Sistema for dividends it got from Bashneft. Prosecutors may widen demands against Sistema, a spokeswoman for the Prosecutor General's Office said yesterday at the courthouse.
"If the prosecutors' cash claims against Sistema keep rising, it's unclear whether Sistema will be able to come up with the needed amount," Oleg Popov, who helps oversee $1 billion at Allianz Investments in Moscow, said by phone yesterday. "Just like with Yukos, someone above may become interested in claiming other non-state companies."
That uncertainty is weighing on other Sistema companies. OAO Mobile TeleSystems, Russia's biggest wireless carrier, is trading at a 42 percent discount to its largest rival, OAO MegaFon, the most on record and more than double the average over the past year. The concern is that Evtushenkov may seek to use MTS, which hasn't been implicated in the case, to raise the cash for a potential settlement with authorities.
"Given the history of Yukos, it is only natural that parallels were drawn and investors once again were questioning property rights in Russia," Brigitte Posch, head of emerging-market corporate debt at Babson Capital Management LLC in London, said by e-mail yesterday. "We would stay away for the time being" from Sistema bonds, she said.
Before it's here, it's on the Bloomberg Terminal.
LEARN MORE