Sime Darby Offers $1.7 Billion for New Britain Palm Oil
Niluksi Koswanage, Yuriy Humber and Ranjeetha Pakiam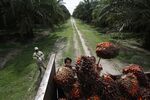 Malaysia's Sime Darby Bhd. is offering an 85 percent premium to buy palm oil plantations in Papua New Guinea, betting land will become scarce to produce the edible oil used in food, cosmetics and biofuels.
It's returning to a deal it seemed to be walking away from just over a week ago, signaling the strong appetite for prime palm oil plantations. That's as Indonesia, the biggest producer, is imposing stricter foreign ownership laws on agriculture and less land is available in Malaysia.
"Big land banks are hard to come by nowadays, especially with uncertainties in Indonesia," said Chye Wen Fei, an analyst at Hong Leong Investment Bank Bhd in Kuala Lumpur. "The price tag maybe on the high side, but it is compensated by the size of the land bank."
Sime, the world's largest listed palm oil producer by market value, offered 1.07 billion pounds ($1.74 billion), or 7.15 pounds a share for London-listed New Britain Palm Oil Ltd., it said today in a statement. The cash offer will be 80 percent financed through borrowing and the rest with its own funds, Sime Group Chief Executive Officer Mohd Bakke Salleh said at a briefing in Kuala Lumpur.
"It's not often that an opportunity such as this presents itself," Bakke said. Sime Darby will delist the company in London and float it in Kuala Lumpur or Singapore, he said. It will keep its primary listing on PNG's Port Moresby Stock Exchange. Sime was advised by Citigroup Global Markets Ltd.
Take Offer
New Britain's board recommended shareholders accept the offer, according to a statement from the company, which is Papua New Guinea's largest employer after the government.
The PNG government owns 18 percent of the company and they would like to increase it to possibly as much as 30 percent, Bakke said.
"My hunch tells me they are looking at around 30 percent," he said. As far as we are concerned, that's a good move because partnership with the government bodes well for the business.''
Palm oil slumped about 18 percent this year as supplies in Southeast Asia expanded, adding to a global cooking-oil glut swelled by record U.S. soybean crops. Prices should stabilize by the end of the year, Sime Darby's Vice President of the Plantation Division Franki Anthony Dass said in Kuala Lumpur today.
Sime's announcement came after it said Sept. 30 that it wouldn't continue talks with Kulim (Malaysia) Bhd. for its 49 percent stake of New Britain Palm Oil after an exclusivity period expired. Kulim said then it would consider another party for the deal.
Black & White
Sime Darby wasn't walking away from a deal with Kulim, it was from the start focusing on an offer for the whole of New Britain, which required approval from the government, Bakke said. The approval took longer than the period of the exclusive talks with Kulim, but after it arrived Sime Darby made the offer for all of New Britain, he said.
"We wanted it in black and white" Bakke said, referring to government support for the takeover.
Sime Darby's shares closed little changed at 9.10 ringgit in Kuala Lumpur after a trading halt pending the announcement was lifted. Kulim's shares remain suspended.
New Britain has over 79,800 hectares of planted oil palm estates, more than 7,700 hectares of sugar cane and a further 9,200 hectares of grazing pasture, some of which will be converted to oil palm, according to the company's financial report in February.
It also owns 12 oil mills and two refineries, one in PNG and one in Liverpool, U.K., as well as a seed production and plant breeding facility. The company's 20,375 head of cattle make it PNG's top beef producer, according to Sime Darby's statement.
"We are acquiring a low risk, well-managed, ongoing business concern that will add value to the group," Bakke said.
Before it's here, it's on the Bloomberg Terminal.
LEARN MORE