Short Sellers Reap Windfall After Cheetah's 39% Rout
Belinda Cao and Boris Korby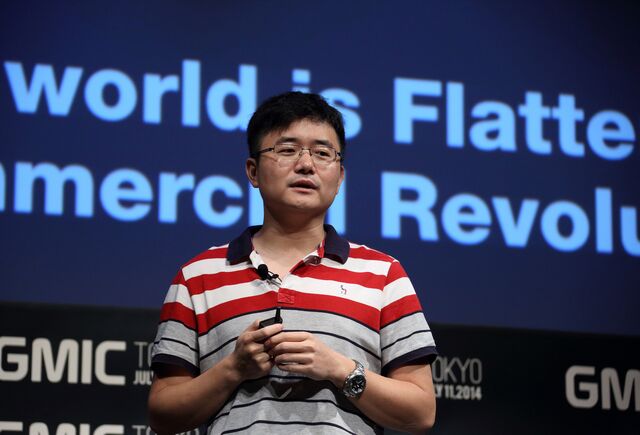 Investors who made Cheetah Mobile Inc. the most shorted stock in the U.S. are reaping a windfall as the company's shares nosedive. Most are betting the rout isn't over.
Traders who piled into bearish bets as the company's stock more than doubled in four months have been rewarded after it plunged 39 percent since Sept. 8 through yesterday, wiping out about $1.7 billion of the company's market value in the process. Short sellers boosted wagers on declines in Cheetah Mobile's share price to as high as 48 percent of its listed American depositary receipts last month, the highest ratio among 1,587 U.S. traded companies with a market capitalization of at least $2 billion, according to data compiled by Bloomberg and Markit.
Bearish investors, who are still shorting 30 percent of the company's listed ADRs, are betting the company's bid to expand the use of its computer and smartphone security applications overseas and reduce its reliance on the domestic market won't succeed, according to Jun Zhang, head of China equity research at Rosenblatt Securities Inc. Cheetah Mobile, which depends on the biggest Chinese Internet companies for about 60 percent of its revenue, is facing increasing competition from larger rivals such as Qihoo 360 Technology Co. at home.
"Cheetah's fundamentals don't support its high valuation, and if we don't see it grow faster in the overseas market, its share price will drop further," Zhang said in a phone interview from San Francisco on Oct. 2. "Investors should have made a lot of money by short selling the stock."
Clean Master
Andy Yeung, Beijing-based Cheetah Mobile's chief financial officer, and Ann Teng, a San Francisco-based spokeswoman for the company, didn't return phone calls and e-mails seeking comment on the trading.
The company is trading at about 9.4 times current-year sales, compared with 6.3 for Beijing-based Qihoo, whose market value is more than three times Cheetah Mobile's.
While wagers on a decline in the shares have slipped as traders covered positions after the rout, the company's stock remain the third-most shorted in the U.S., the data show.
Cheetah Mobile fell 4.3 percent to $17.60 at 10:32 a.m. in New York, heading for a four-month low as a Bloomberg index of the most-traded Chinese companies in the U.S. slipped 0.8 percent.
Cheetah Mobile is releasing a desktop computer-based version of Clean Master, its mobile security application, in the U.S., the company said Sept. 30. The American market is "the cornerstone of our global expansion strategy," Chief Executive Officer Sheng Fu was cited saying in a statement. The application has more than 280 million active users on Android devices, the release said.
Redundant Software
Cheetah Mobile's products including Clean Master aren't needed for personal computers that come with similar software already included, according to Dan David, co-founder of Skippack, Pennsylvania-based Geoinvesting LLC.
"Clean Master for PC is as redundant as Clean Master for the phone," David, who has a short position on the stock through a personal account and expects shares to fall below their initial public offering price of $14, said in a telephone interview on Oct. 2. "There are plenty of products that PCs come with and already do the same thing. It won't help the company much unless it gets a deal with a major manufacturer."
Cheetah Mobile's shares will climb 76 percent to $32.28 over the next 12 months, according to the average estimate of six analysts compiled by Bloomberg.
Proven Model
"We believe Cheetah Mobile to be among the first China Internet companies that will benefit from overseas expansion," China Merchants Securities Co. analyst Jeff Hao, who has a 12-month price target of $36.70, said in a Sept. 26 report. "Cheetah Mobile has found a proven mobile monetization model."
The cost of borrowing Cheetah Mobile shares for short sales is about 7 percent, compared with an average fee of less than 50 basis points, or 0.5 percent, for companies on the Standard and Poor's 500 Index, according to Markit, a London-based provider of financial information.
"I just don't like their prospects for the future," Geoinvesting's David said. "A lot of the shorts are not covered. If you still think there's $3 to $5 a share left in the tray, that's a lot of money."
Before it's here, it's on the Bloomberg Terminal.
LEARN MORE