Saudi King Gets New Neighbors as Morocco Evades Turmoil: Economy
Souhail Karam and Caroline Alexander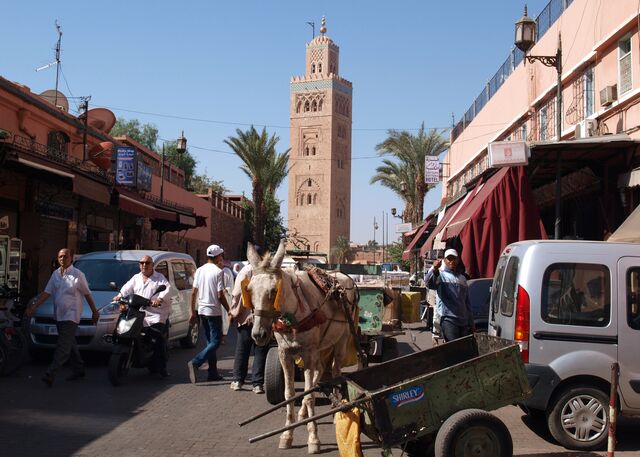 Beyond the walls of a palace outside Casablanca owned by Saudi Arabia's King Abdullah, Moroccans are buying housing plots that one of the Middle East's biggest construction firms will fold into a new mini city.
The $346 million plan by Jeddah-based Saudi Binladin Group will turn 250 hectares of former local-authority land into homes for 150,000 people, hospitals and an artificial lake.
"The plots are selling like hot cakes," Nahid Iraqi, a sales executive at Garan, the local affiliate of Saudi Binladin, said in a Sept. 27 interview. "We expect to close the sale this month."
"Victoria City" is the latest bet on Morocco, where foreign investments into real estate, tourism and manufacturing seek to profit from a stable Arab state at a time of unprecedented regional turmoil. Renault SA, Europe's third-largest carmaker, said this month it may build engines in Morocco, where it already has a plant in the coastal city of Tangier. The country's credit risk has dropped this year while its benchmark stock index has climbed 11 percent, heading for its first annual gain since 2010.
Morocco has escaped the worst of the unrest that swept parts of the Middle East and North Africa since 2011 from the violent ousting of autocratic governments to the rise of extremist groups such as Islamic State. The country's main Islamist party, which has led the government since winning its first parliamentary elections three years ago, has shied away from challenging the legitimacy of the royal family. King Mohammed VI, in return, devolved some powers to the government and released Islamist activists from jail.
Militant Attacks
Militant attacks such as a 2011 bombing in a main tourist city have been rare and Morocco's economy has "recovered relatively quickly" from past incidents, said Philippe Dauba-Pantanacce, a London-based senior Middle East and North Africa economist at Standard Chartered Plc.
The capital inflows are a boost for Morocco as it seeks to diversify sources of economic expansion beyond agriculture with a focus on automotives, renewable energy and infrastructure, said Dauba-Pantanacce. Reducing the economy's reliance on farming is Morocco's biggest challenge, he said.
Automotive exports surged 34 percent in the first eight months of 2014 to $3 billion, official data show, the biggest increase among any industry. Renault added a second assembly line in 2013, and expects to produce 200,000 units this year, according to the Economist Intelligence Unit.
Youth Unemployment
The investments may also help Morocco tackle youth unemployment and poverty, issues that fueled uprisings in countries such as Egypt and Tunisia. While economic growth has lifted many out of poverty, inequality has slightly increased over the past decade, even compared with other emerging markets, the International Monetary Fund said last year.
Acknowledging the diversification efforts, Moody's Investors Service last month changed Morocco's rating outlook to stable from negative. While economic expansion will slow this year to about 3.5 percent, the country's economic policy is expected to help lift potential growth to 5.5 percent in the medium term, according to the IMF.
Morocco has "very strong economic metrics," said Sergey Dergachev, who helps oversee $10 billion in emerging-market debt as a senior portfolio manager at Union Investment Privatfonds GmbH in Frankfurt. "It's got solid GDP growth and low external indebtedness."
The IMF approved a $5 billion precautionary credit line in August to enable Morocco to weather unexpected economic shocks after a previous facility expired this year. The Gulf Cooperation Council, a six-member bloc that includes Saudi Arabia and the United Arab Emirates, has also extended billions of dollars in aid to prop up the Moroccan economy.
GCC Funds
Funds from the GCC reflect a strategic alliance that dates back to the early 1960s when Saudi Arabia and Morocco united against Egyptian leader Gamal Abdel Nasser and his agenda of socialism and pan-Arab nationalism. Over the years, Saudi Arabia has provided Morocco with oil, financing, investments and jobs, helping reduce the North African nation's reliance on European ties established during French colonial rule.
The rise in Gulf nation cash is "definitely good news for the kingdom," said Mohamed Abu Basha, an economist at EFG-Hermes, a Cairo-based investment bank. "It allows Morocco a much-needed diversification of capital inflows. The dominance of ''Europe has caused Morocco great pain in the past few years,'' he said.
Tourism Projects
In Casablanca, Wessal Capital, a Moroccan fund backed mostly by equity from Qatari, U.A.E., Saudi and Kuwaiti investment institutions, is behind a development that will include an upgraded cruise-ship terminal, hotels, offices and homes.
It has also invested in a housing and tourism project in Rabat centered on a theater designed by Zaha Hadid. Saudi Arabia's Acwa Power put money into a solar-energy plant in Ouarzazate, one of Morocco's poorest regions, set to generate 160 megawatts of electricity from as early as 2016.
Funds from the Gulf aren't necessarily only motivated by politics, said Abu Basha of EFG-Hermes.
There is ''private money that is targeting different sectors in Morocco, most notably infrastructure," he said. "Even if there is a political directive to focus on Morocco, it is largely for investment opportunities that generate decent returns."
Before it's here, it's on the Bloomberg Terminal.
LEARN MORE