Rock-Throwing Berliners Take On Developers in Rent Clash
Dalia Fahmy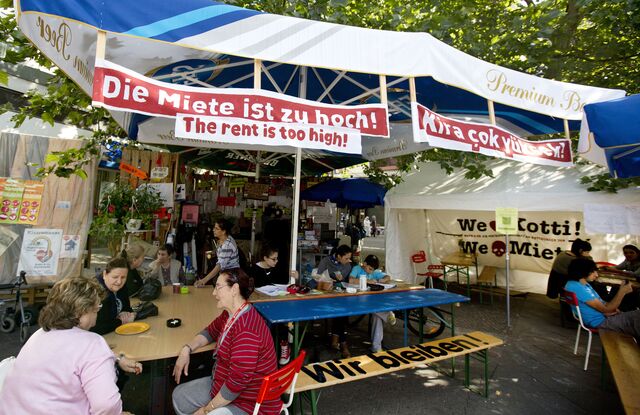 Wearing black masks and hoodies, they torched garbage cans, smashed windows and splashed red paint on the glass façade of a new luxury apartment building. When police arrived, the perpetrators repelled them with a hail of rocks and fled.
The scene, which played out this summer in Berlin's Kreuzberg district, is an extreme example of an escalating dispute over rising rents between long-time residents who say they're being priced out of their neighborhoods and newcomers flocking to the city as the economy picks up.
"They've gotten a lot more militant," Wolfram Pemp, a criminal investigator at Berlin's state police, said while recalling the crime that played out in Kreuzberg. "It's all connected to changing neighborhoods."
Behind the conflict is a 43 percent surge in rents in the city in the past five years, according to data compiled by research firm Empirica AG, as 50,000 people moved to Berlin in the last year alone. While the population increase has also led to a boom in new construction -- the number of building permits issued last year was the highest since 1999 -- much of the new housing is at the high end and unaffordable for low-income earners.
The housing shift is greatest in Kreuzberg, a neighborhood once filled with Turkish immigrants, artists and squatters that has become a popular destination for newcomers to the city. Rents in the district have climbed 64 percent in the last three years. By comparison, the gain during that time across Germany was 7 percent.
Fighting Evictions
Detlev Kretschmann belongs to a group called Kotti & Co. that mans a shack on a busy Kreuzberg traffic hub around the clock, helping tenants battle rent increases and fight evictions. Posters nailed into wood beams decry "greedy investors" in a "capitalist housing market."
"We're not against all change, we're against change that comes at the cost of the poor," said Kretschmann, a 66-year-old activist who in the 1970s helped occupy the city's first squats and in the 1980s organized May Day demonstrations. "The Berlin real estate market has developed very much at the cost of the disadvantaged."
Two blocks away, the developer of Berlin's Soho House upscale hotel has listed sprawling loft apartments with marble bathrooms and rents of 20 euros ($25.53) a square meter, more than twice the city average and four times what welfare recipients in nearby social housing pay.
Sensitive Issue
Rents are a particularly sensitive topic in Berlin because 85 percent of residents are renters, compared with about 54 percent across Germany. Wages have lagged behind rent gains, rising 4 percent in the past three years, according to Berlin's Statistics Office.
Nonetheless, Berlin's economy is on the uptick again -- drawing new residents as a result, with another 250,000 forecast to arrive by 2030. The unemployment rate, while still the highest among the country's big cities, has dropped to 11 percent from 14 percent five years ago.
The real estate gold rush, epitomized in Kreuzberg, is palpable across the city. Construction cranes frame the skyline where new ministries, shopping malls and office districts are rising.
"Berlin has extremely high catch-up potential," said Jan Linsin, head of German research at CBRE Group Inc. "It's Germany's biggest market, the only 24-7 city, with a young population and an aspiring workforce."
Old Guard
The rising wealth is squeezing Berlin's old guard out of the homes, parks and pubs they once occupied. Zwangsraeumung Verhindern, an anti-eviction group, has protested 20 evictions in Berlin since it was founded two years ago, rallying hundreds of supporters to blockades. One community group has teamed up with political parties in the Friedrichshain neighborhood to stop the building of apartments on former industrial land along the Spree River now used for dance raves and art exhibits.
The battles are about more than just real estate, said Tobias Morawski, author of Reclaim Your City. Activists want to preserve Berlin's alternative culture and prevent the segregation of rich and poor. Berlin's cheap bars, art galleries and community centers, once at the core of a free-for-all lifestyle, are being driven out because they can't afford the rent, Morawski said.
Construction Interruption
Activists scored their biggest victory in May, when a grassroots group convinced voters to reject the government's plan to build 4,700 homes on Tempelhofer Feld, an abandoned airfield in central Berlin that's been turned into a recreational lawn the size of Central Park.
The political unrest caused a Hamburg-based developer to back out of a bid to acquire a former Kreuzberg army barracks this year after community groups attacked his conversion proposal. Construction on a luxury apartment building in nearby Friedrichshain was interrupted last year after thousands demonstrated against a plan to move one of the last continuous sections of the Berlin Wall.
Developer Thomas Groth is bracing for opposition to his plan to erect townhouses in Mauerpark, a hilly park in the Prenzlauer Berg district known for its tourist-packed weekend flea market. To shield himself against criticism, Groth is organizing town-hall meetings early in the planning process to gather input from neighbors.
Activists are shooting themselves in the foot by making it more difficult to build homes, Groth said. With a vacancy rate of about 3 percent and only 6,600 homes added last year, the construction lag has caused a housing shortage that's pushing up rents.
Disapproval
"In Berlin there are alliances of people who are pretty much professionals at protesting everything," Groth said. "They get together and don't do anything other than giving every new project in the city a stamp of disapproval."
Deutsche Wohnen AG, Berlin's biggest publicly traded landlord, owns many of the apartments at Kottbusser Tor, where Kretschmann works at the Kotti & Co. sit-in. The shack was built three years ago, after tenants began complaining that they could no longer afford their rent increases, Kretschmann said.
Rents are well below the market average in that area, at about 5.20 euros a square meter, said Manuela Damianakis, a Deutsche Wohnen spokeswoman. The landlord, which owns more than 100,000 apartments in Berlin, has no interest in driving tenants out of the state-subsidized housing, she said.
"There's been a vehemently anti-landlord mood in big German cities over the past couple of years, and general malaise about rising rents and rising prices," Damianakis said. "It's really about: the city is changing and I don't want the change."
Before it's here, it's on the Bloomberg Terminal.
LEARN MORE