Rival Kremlin Factions Feud Over Russia's Economy
Rivalry grows among Russia's power players
By , , and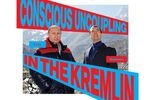 With Russian President Vladimir Putin focused on foreign policy, rival factions in his inner circle are battling for influence over the economy, say five officials close to the president. The officials, who declined to be identified while discussing internal issues, say the infighting is slowing decision-making as the country slips into recession, the ruble hovers near a record low, and sanctions imposed to punish Russia for the conflict in Ukraine begin to hurt.
One faction, centered around Prime Minister Dmitry Medvedev, is concerned about Russia's increasing alienation from the global financial system, the officials say. The other group—which includes Putin's chief of staff, Sergei Ivanov, veterans of the security services, and heads of state companies such as Igor Sechin of oil giant Rosneft—favors greater state control over the economy. With the price of oil, Russia's largest export, at a 27-month low and banks turning to the state for funding, there's less money to go to the state-owned companies. "The long-running conflict between rival pro-Putin camps has elevated to war," says Stanislav Belkovsky, a Kremlin adviser during Putin's first term who now advises Moscow's Institute for National Strategy, a think tank. "The elite are fighting for a shrinking pool of assets."
A few of these struggles have gone public. In August, Deputy Economy Minister Sergey Belyakov was fired when he voiced his anger on Facebook at the Kremlin's decision to hold on to pension savings to increase funding for the budget, instead of transferring the money to private fund managers in 2015, as was promised. Belyakov wrote, "I am asking everybody for forgiveness for the stupid things we do and for not keeping our word."
The president's spokesman, Dmitry Peskov, says disputes among officials don't affect the efficiency of governing and it's "untrue" to say Putin is too busy to address urgent economic issues. "There are disputes, and there will be," he says. "But to say that there's an escalation is absolutely wrong." Even Rosneft boss Sechin praises Medvedev as "a respected prime minister with immense experience."
Heightening the feud is the arrest of billionaire Vladimir Evtushenkov, who has been confined to his Moscow mansion since Sept. 16, when prosecutors charged the oligarch with money laundering. Closely aligned with Medvedev, Evtushenkov is the focus of a campaign by prosecutors to nationalize his oil company, Bashneft.
Evtushenkov, whose AFK Sistema controls companies such as Bashneft and cellular operator Mobile Telesystems, is the richest Russian to face criminal charges since petroleum oligarch Mikhail Khodorkovsky. That prosecution led to more than 10 years of jail time and the dismantling of his company, Yukos, whose market value once exceeded $36 billion. "Medvedev will lose this battle, and Bashneft will go the way of Yukos," Belkovsky says. Medvedev's spokeswoman, Natalya Timakova, declined to comment on the Evtushenkov case or on relations among top officials. Sistema's spokesman declined to comment.
Evtushenkov's legal troubles show how damaging the conflict within the power structure can be for the losing side, says Olga Kryshtanovskaya, a sociologist studying the country's elite at the Russian Academy of Sciences. Evtushenkov's fortune as measured by the value of his Sistema stock has shrunk 70 percent since January, to $3.1 billion, according to the Bloomberg Billionaires Index. "State corporations are on the offensive against private business," Kryshtanovskaya says. "They need resources, and Putin needs loyalty and controllability."
Already divided over Ukraine, Kremlin bureaucrats are keeping their head down, waiting to see how the case against Evtushenkov plays out and who might be next, the officials say. Lawyers for Evtushenkov say he's innocent of the charges, which are allegedly linked to Sistema's acquisition of Bashneft in 2009, when Medvedev was president. Putin has tried to reassure investors concerned that the case may be a prelude to a wider campaign to regain state assets. He said at a forum in Moscow on Oct. 2 that there won't be a "mass review" of such privatizations.
The five officials, who spoke after Evtushenkov's arrest and before Putin's comments on asset sales, say the gridlock has made it almost impossible to implement policies to steer the economy away from recession and adjust to sanctions. The U.S. and the European Union have all but closed their debt markets to Russian companies. The bellwether RTS Index of stocks fell 18 percent in the three months ended Sept. 30.
Yevgeny Yasin, a former economy minister who's now an academic adviser at the Higher School of Economics in Moscow, says the economic crisis "is creating a dire financial situation, particularly for state companies friendly to Putin, which are now vying for shrinking state resources." In August, Rosneft asked the state for as much as 1.5 trillion rubles ($37 billion) of aid, a senior official with direct knowledge of the request said at the time. Rosneft is heavily indebted to state banks and bondholders. Sanctions bar it from Western markets for all but short-term debt.
When Putin came to power at the end of 1999, state companies accounted for about 30 percent of the economy, according to BNP Paribas. Now the share is more than half. Unlike Putin's first two terms as president, when Medvedev and other "economic rationalists" had more freedom and growth averaged 7 percent, this cabinet is dominated by "statists" who want to expand the government's role in the economy, says Masha Lipman, an independent political analyst in Moscow. Whenever there's a clash between the proponents of "economic efficiency and rationalism" on one hand and "control and sovereignty" on the other, "Putin always opts for the latter," Lipman says. "The desire of the statists to be fully in charge has intensified. This trend has become irreversible. Medvedev is at risk, and removing him as premier would take away the last defense of the rationalists."
BOTTOM LINE -
The bottom line: State companies are so battered by the declining economy that they're seeking aid from Putin's government.
Before it's here, it's on the Bloomberg Terminal.
LEARN MORE