Survivor's Remorse: Entourage With a Soul
Professional basketball gets the scripted TV treatment in Survivor's Remorse
By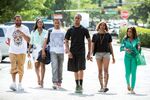 There's no question that Survivor's Remorse, a new Starz series produced by LeBron James and Maverick Carter, his longtime BFF and business partner, was initially pitched as "Entourage for sports." For eight seasons, that HBO show portrayed the life of a fictional film star as fundamentally empty, spiritually bankrupt, and endlessly repetitive: No matter what, it all turned out great in the end for Vinny Chase and his merry band of morons. (Coming to a theater near you in 2015!)
So it's a relief to say that Survivor's Remorse is more like "Entourage with a soul." It's the story of Cam Calloway (Jessie Usher), an undrafted basketball point guard who grew up in the slums of Boston but breaks through his rookie year, landing a megamillion-dollar contract with Atlanta's professional team. (James lent his name to the production, but the NBA didn't, so there are no actual team names and, in fact, very little basketball.) Cam's whole life is obviously transformed, and the series tracks how he and his—there's no escaping the word—entourage navigate the world of sudden wealth and overwhelming fame.
The show doesn't argue that the life of an NBA superstar is somehow difficult, at least not more difficult than yours. But it lets you know that it isn't as simple and things don't always turn out as well as shows like Entourage would have you believe. In one episode, Cam and his crew are confronted by someone from their old neighborhood who blackmails them with a racially insensitive rap video Cam made when he was 12. In the funniest story line, we see how those Make-A-Wish Foundation trips athletes take are often miserable for everyone involved, including the kid in the hospital. (Children in the series are shown as human beings with their own faults and excesses, sick or not.)
In the episode with the most compelling connection to current events, Cam's mom (Tichina Arnold) gives an interview in which she lists all the items she used to beat Cam with when he was a kid, including Hot Wheels tracks. She deals with the public ramifications of her admission in a way that's not that different from what recently happened with Minnesota Viking Adrian Peterson. None of this is played for laughs, which makes it that much more powerful.
It helps that the entourage itself is likable. Reggie Vaughn (well played by RonReaco Lee) is the Carter surrogate, an extremely capable assistant and friend who understands where they came from and how to avoid going back. Erica Ash plays Cam's sister in the most thinly written part. She's his fiercest advocate and also, as the script feels obliged to keep reminding us in the crudest terms, a lesbian. The always funny Mike Epps plays Cam's uncle, who hangs around for the plentiful weed and even more plentiful women. But the best performance is Arnold's, as the mom who loves her son but also loves the new life his money will bring her.
That last bit is indicative of the show's surprising frankness, particularly in regard to the real-life troubles of James's mother, who once kicked out the side window of a police car during a DUI arrest. The series, written by Mike O'Malley, a producer on Showtime's Shameless but better known as an actor from Glee, is open about drugs and women and the obligations that come with being a multimillionaire athlete. And although most TV avoids dealing with race, Survivor's Remorse faces it with candor. (Donald Sterling even comes up a few times.) The show isn't perfect—there's an episode about Cam choosing a church that's broad and silly—but the basics are all there, including a mission statement I hope it holds on to: Sometimes hugging it out just isn't enough.
Before it's here, it's on the Bloomberg Terminal.
LEARN MORE