The 350,000 Percent Rise of Christopher Wool's Masterpiece Painting
One work's 350,000 percent rise through the booming art market
by and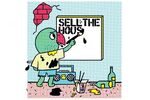 Art dealer Christophe Van de Weghe strode into Christie's auction house in New York with orders from a mystery client. His mission that night, Nov. 12, 2013, was to buy a specific painting—for which the client was willing to pay an astonishingly high price. "He gave me a number, and he had me bid on it," Van de Weghe recalls. "He really wanted to have it." The work was called Apocalypse Now.
By the end of the night, the auction at Rockefeller Center would make history many times over. As auctioneer Jussi Pylkkänen's hammer fell on lot after lot, the figures posted on the screen behind him were as eyepopping as the works on display. A Francis Bacon triptych set an auction record for any artwork, at $142.4 million. Jeff Koons's sculpture Balloon Dog (Orange), at $58.4 million, set a high mark for a living artist. An Andy Warhol picture of a Coca-Cola bottle sold for $57.3 million, pushing the overall take that night to $692 million, at the time the biggest single sale of art ever.
Apocalypse Now, the eighth lot auctioned that night, was created by Christopher Wool in 1988. It isn't much of a painting at all—just black letters on a seven-foot white background spelling out, in all caps, a line from Francis Ford Coppola's Apocalypse Now: SELL THE HOUSE SELL THE CAR SELL THE KIDS. Wool isn't a household name like Warhol or Koons, but his work has been gaining critical and commercial traction for years. Christie's had estimated Apocalypse Now would sell for between $15 million and $20 million, more than double Wool's previous auction record of $7.7 million. Just 18 days earlier, in the closest thing that comes to a coronation in the art world, the Solomon R. Guggenheim Museum had inaugurated a massive midcareer survey of Wool's work.
The journey of Apocalypse Now to the biggest night the auction world had ever seen is the story of the contemporary art market's unprecedented rise and the forces behind it. An edgy work born of downtown New York street graffiti, Apocalypse Now passed through the hands of half a dozen owners, from a refugee who fled Nazi Germany to French billionaire François Pinault. One owner would hang Apocalypse Now in a childhood home of Jacqueline Kennedy Onassis on Park Avenue and transform the painting into a financial instrument, using it as collateral for a loan from JPMorgan Chase.
The weeks leading up to the auction lay bare the way rich collectors, museums, dealers, and auction houses reinforce one another's interests, wittingly or not. The last known owner of Apocalypse Now, for example, was a trustee of the Guggenheim who sold the painting privately in the runup to the museum's exhibit, just as prices were cresting.
When Apocalypse Now came to the block at Christie's that evening last November, at least two potential buyers made their offers via phone connections to the auction house. In the room, Van de Weghe sat near the front, with a diagonal view of the auctioneer's podium. The dealer was sandwiched between billionaires—on his left, J. Tomilson Hill, vice chairman at Blackstone Group, the world's largest private equity firm, and on his right, hedge fund manager Dan Loeb. At the time, each man had a Wool on loan at the Guggenheim show two miles north on Fifth Avenue. Hill's was a stark picture of black flowers. Loeb's, called If You, was block letters that spell (without the dashes): IF YOU CANT TAKE A JOKE YOU CAN GETHE THE F-‍-‍- OUT F-‍-‍- OUT OF OF MY HOUSE.
The king of the Wools, however, is Apocalypse Now, widely considered his archetypal word painting. "It is his masterpiece," says Van de Weghe. As the price crept up toward $18 million, the dealer entered the fray. Technically, Van de Weghe was bidding with his own money. If he won, he would resell Apocalypse Now to the person who'd dispatched him that evening. Doing battle now with three other buyers, he didn't relent. "My client wanted the best," Van de Weghe says.
And so the price kept going up.
 
 
Contemporary art sales at auction shot up 33 percent last year and 1,078 percent over the past decade, according to France-based Artprice.com. And those figures don't include private sales and gallery transactions, which dwarf auction sales.
The boom has made single works more expensive than the market values of more than 800 members of the Nasdaq Composite Index. The same $142.4 million spent on the Bacon triptych at Christie's would have funded India's entire Mars orbiter mission—twice. Koons's Balloon Dog, a 10-foot-tall stainless-steel rendition of a child's party favor, went for roughly the same amount the White House recently requested to develop an Ebola vaccine.
At these levels, art has become a significant slice of the net worth of some of the planet's richest inhabitants, a portfolio-diversifying store of value for anyone who already has enough homes, bonds, stocks, or airplanes. Financier Ronald Perelman's fortune includes $3 billion in art—more than a fifth of his $14.8 billion total—according to the Bloomberg Billionaires Index. Artwork valued at $2.3 billion is the single biggest chunk of music mogul David Geffen's total $6.6 billion, and Los Angeles philanthropist Eli Broad's $7 billion includes $2.2 billion of art. The Bloomberg index counts $1 billion of art each in the fortunes of hedge fund manager Steven Cohen, publishing baron Si Newhouse, and Pinault, who owns Christie's.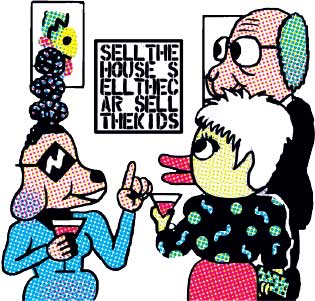 The art market has reached similar dollar amounts (adjusted for inflation) before, notably when Asian buyers snatched up Impressionist artworks in the late 1980s and early 1990s. But it has never seen such extraordinary prices for contemporary art, when a 25-year-old word painting like Apocalypse Now goes to auction estimated at more than a 400-year-old work by a Dutch master, such as Jan Brueghel the Elder's The Garden of Eden With the Fall of Man, which sold for $11.7 million in July.
"If you're looking for something rational in the art market," says art adviser Thea Westreich, "go fishing or go do something else instead." Collectors and dealers have come together to invert the law of supply and demand, making the nearly limitless pool of new works more valuable than rarities. A collector who's excited about Camille Pissarro, who died in 1903, may only be able to purchase two. A collector excited about Christopher Wool could buy 20.
Prices for Wools have paced the boom, according to figures kept by New York-based Artnet Worldwide. In 1993 there were two public sales of his work, totaling $24,170. In 2003 the number was 11, for $807,580. In 2013, the year of the Guggenheim exhibit, 65 public Wool sales totaled $80.9 million.
Among his downtown peers from the 1980s, Wool, born in 1955, was something of a late bloomer. Money first flowed to publicity-savvy artists such as Julian Schnabel and Ross Bleckner, whose prices skyrocketed—and peaked—well before Wool's art was traded in earnest. He came upon the idea for text paintings in 1987 when, while walking in New York, he spotted a white van spray-painted in black graffiti. It read "luv" and "sex." His graphic riffs on those words launched the genre. The following year, Wool drew upon the 1979 film Apocalypse Now for new text, taking the "Sell the house" line from a letter a character sends home from the jungle after going mad.
The painting Apocalypse Now had its debut in April 1988 at the 303 Gallery, a sparse East Village space. Illuminated by track lighting, the work hung on a wall across from three urinal sculptures by Robert Gober, with whom Wool had organized the joint show. "It was probably the painting of the year," Richard Flood, now the chief curator of New York's New Museum, later wrote of Apocalypse Now. The stock market had crashed the previous year, and as the economy slid into recession, humbling the art world, Wool's apocalyptic text "became a kind of late-'80s mantra," according to Flood. Wool, who still lives in New York and who abhors giving interviews, declined to comment for this story.
The show was such a hit that one couple bought the whole thing, urinals and all. Werner Dannheisser, who fled Germany in 1936, had founded an engraving company in Queens and in 1952 married a secretary there, Elaine, who had studied painting. In the 1980s they filled their Tribeca loft with works by Keith Haring, Kenny Scharf, and other now-famous names. While the price they paid for Apocalypse Now was never made public, a similar word painting by Wool sold a year later for $7,500. The pieces wouldn't stay in the four figures for long.
Werner died in 1992, and in 1996 Elaine offered MoMA most of her collection. Valued at more than $5 million, the donation allowed Dannheisser to join the museum's board. There was a twist: MoMA refused to take Apocalypse Now.

"They already had a Christopher Wool, and they thought they didn't need two," says art dealer Philippe Ségalot. In 1999, he says, Dannheisser approached him about selling the work at auction. Ségalot was then head of Christie's postwar and contemporary art department in New York. "Of course I took the picture," he says.
A few days after Dannheisser signed the contract to auction Apocalypse Now at Christie's, Ségalot mentioned the pending sale to Per Skarstedt, one of the most established contemporary art dealers in New York. A lanky Swede, he today owns Skarstedt Fine Art, which has a town house on the Upper East Side, a warehouse-style space in Chelsea, and space in a town house near Buckingham Palace in London's Mayfair district. Skarstedt implored Ségalot to sell Apocalypse Now to him, offering up an alternate Wool—titled Fool—that could be auctioned instead. Christie's agreed. Skarstedt paid Dannheisser between $100,000 and $150,000 for Apocalypse Now, nearly double the $60,000 to $80,000 it was expected to fetch at the auction.
Within days it became clear that Skarstedt had gotten a steal. At the Christie's auction on May 19, 1999, Wool's Fool was estimated to sell for as little as $40,000. With Dannheisser in the room, a bidding war erupted. As a shocked audience looked on, Westreich, the art adviser, placed a winning bid of $420,500 for the lesser Wool.
"Elaine almost died in the auction room," Ségalot says. "I wanted to hide behind the podium." He says Dannheisser didn't speak to him for six months.
With Wool prices in new territory, Skarstedt added Apocalypse Now to his inventory and waited for an offer. It didn't take long. By the end of 1999, St. Louis-based businessman and collector Donald Bryant Jr. made an approach through Luhring Augustine, the New York gallery that acts as Wool's primary dealer. Bryant agreed to pay about $400,000 for Apocalypse Now, Skarstedt says, roughly equivalent to the price paid for Fool.
"It was worth more," Skarstedt says. He agreed to the discount because, he says, Bryant said he'd eventually donate the painting to a museum. "That was part of the deal. I'm friendly with the artist. I figured it's good for the piece." But Bryant didn't donate it to a museum, a reversal that's fairly common in the art world. "That's just how it goes," says Skarstedt. Instead, in 2001, Bryant called Ségalot, who was working as a private dealer at the time, with a tale of family drama. "I want to install it in my house," Ségalot recalls Bryant saying, "but my wife hates it. She can't live with a work that says 'SELL THE HOUSE SELL THE CAR SELL THE KIDS.' So do you know anyone who might want to buy it?"
Ségalot did: Pinault, who'd bought Christie's in 1998 and houses his art collection in the Palazzo Grassi, a restored 18th century mansion in Venice. Ségalot has been friends with, and occasionally employed by, Pinault for more than 25 years. He sold Apocalypse Now to Pinault for "around $400,000," Ségalot says. It was the first time the painting had changed hands without a big jump in price—the reasons for which could have been anything from a side deal between the parties to a temporary lull in Wool's popularity. Four years later, in 2005, Pinault decided to sell the work, saying his collection was too light on Wools to justify keeping Apocalypse Now. "He likes to collect in-depth," Ségalot says. "He only had one work by Wool. It was the best work, but the only work."
The dealer endeavored again to place Apocalypse Now, this time with a player in the booming hedge fund world, David Ganek. A New York native, Ganek had cut his teeth at SAC Capital Advisors, Steven Cohen's hedge fund, before striking out on his own in 2003, co-founding Level Global Investors. In 2005 he conquered prestigious social turf on Manhattan's Upper East Side—joining the board of trustees of the Solomon R. Guggenheim Foundation, which oversees the museum, and spending $19.1 million for the duplex apartment where Jacqueline Kennedy Onassis once lived at 740 Park Ave., one of the city's most formidable addresses.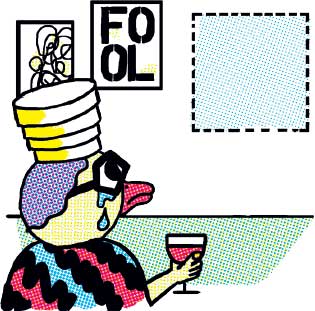 Ségalot decided Ganek would have Apocalypse Now. "I sold it to him for $2 million in 2005," Ségalot says. The painting went up on a wall in a living room of the duplex, which was now home to Ganek; his wife, novelist Danielle Ganek; and their three children. "This is the highlight of my collection," Ganek told Ségalot, according to the dealer. "I will never sell this picture."
 
 
In the same way a homeowner can take out a home-equity loan, a collector can borrow against a painting, and in 2006, Apocalypse Now became collateral with Bank of America, and then, a year later, with JPMorgan. According to loan documents, the painting was pledged to JPMorgan for almost the entire time Ganek and his wife owned it.
While the collateral documents filed with the state of New York don't give loan amounts, they detail the breadth of the Ganeks' collecting and borrowing. From 2007 through 2014 they list loans against 26 works by contemporary artists: paintings by Richard Prince, Cy Twombly, and Takashi Murakami; sculptures by Damien Hirst, Jeff Koons, and Maurizio Cattelan. A filing dated April 1, 2010, shows an additional 18 Ganek pieces—including an untitled 1997 Wool and a Koons comprising two Spalding basketballs floating in a glass tank—became collateral with Sotheby's Financial Services.
All the while, Danielle had been taking notes on what she saw at the intersection of art and money. In her roman à clef, Lulu Meets God and Doubts Him, Ganek, a sharp observer of her Manhattan milieu, casts as the protagonist a single painting, following its rise from $75,000 to $4.3 million in just nine months. Along the way she skewers collectors and dealers alike. In one scene, a gallery assistant says of the contemporary art world, "This is the last bastion of legal insider trading."
Three years later the illegal kind of insider trading would change the course of David's career. In November 2010 his Level Global was among four firms raided by the FBI in a wide-ranging probe of insider trading at hedge funds. At the start of 2011, Ganek and his co-founder, Anthony Chiasson, closed the $4 billion fund, citing the federal investigation. Chiasson was later convicted and sentenced to 6½ years in prison for using illegal tips to make more than $68 million for his fund. Ganek, who wasn't accused of any wrongdoing, set up a new fund to manage his own money. He called it Apocalypse 22.
As Ganek regrouped, the future of Apocalypse Now took shape. At the Guggenheim, staffers began to organize the museum's 2013 Wool retrospective. The Ganeks became chairs of the Wool exhibit's Leadership Committee, which gave "major support" for the show, according to its exhibit catalog.
The Ganeks' painting was to be a star of the show. The catalog dedicated three pages to it, including a photo from the 303 Gallery show. An index identified Apocalypse Now as the Ganeks' property, and a list in the front of the book named David as a trustee. (The board currently has 29.) But the work never made it to the retrospective. Between the time the catalog went to print, typically three months before a show's opening, and the November auction at Christie's, Ganek resigned from Guggenheim's board and sold Apocalypse Now.
The first news that the Ganeks had sold—to a still-unknown party—came on Oct. 4, 2013, in the form of a Christie's press release. The work was to be immediately offered up at the auction house's big November show. It's not uncommon for a piece to change hands while it's part of a major exhibition. But in an unusual move, the Guggenheim yanked the picture from its Wool retrospective, citing the change in ownership and the planned auction. On its website, the museum edited a press release to move the Ganeks lower on the exhibition's acknowledgments list. Ganek, through a spokesman, declined to comment.
On Oct. 25, when the museum opened the doors to the Wool show it had mounted on its spiral ramps, Apocalypse Now wasn't there. Christie's installed it at its Rockefeller Center headquarters ahead of the Nov. 12 auction. That evening, Van de Weghe didn't flinch as he bid until the competition dropped out. When the hammer came down, the audience broke into applause. The final price for Apocalypse Now, including the buyer's premium paid to Christie's: $26.4 million. It had appreciated roughly 350,000 percent in 25 years.
After the sale, speculation raced through the art world about who the mystery buyer—and seller—had been. "It's a little bizarre," dealer Skarstedt says. "Normally, even when someone's discreet, three weeks later everybody knows. It could be someone in Europe or in China, you never know." Van de Weghe has stayed mum. "The person who bought the painting wants to remain very quiet," he says.
Apocalypse Now has been seen in public on at least one occasion since then. In February, when the Wool retrospective moved from New York to the Art Institute of Chicago for 11 weeks, the new owner agreed to lend the painting. Wool attended the Chicago opening, where he spoke with Van de Weghe about Apocalypse Now. "I would love to know who the owner is," Wool said, according to Van de Weghe. "I would love to know who owns my work."
Before it's here, it's on the Bloomberg Terminal.
LEARN MORE