Pickens Interested in Investing in McClendon Again
Jim Polson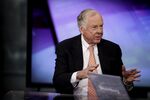 T. Boone Pickens, the chief executive officer of BP Capital Management LP, said he would be interested in investing again with Aubrey McClendon, the co-founder of Chesapeake Energy Corp. who was ousted last year.
"I potentially could be" an investor in publicly traded companies McClendon forms, Pickens said in an interview today at Bloomberg headquarters in New York. "Let's see what he's got."
McClendon told a conference in Dallas last month that he plans to sell shares in the natural gas exploration companies he's formed since leaving Chesapeake. The companies will specialize in individual U.S. shale regions. McClendon and his Oklahoma City-based American Energy Partners LP have amassed about $13 billion in the past 16 months from investors including KKR & Co.
Pickens, who sold all his shares in Chesapeake in 2012 as the stock fell on lower gas prices and the reaction to potential McClendon conflicts, said he isn't yet among those investors.
"Aubrey and I have talked several times," said Pickens, 86, who has called McClendon a good friend. "I kind of know what he's doing."
McClendon, 55, was in the vanguard of the shale revolution that upended U.S. gas markets and paved the way for the renaissance in American crude oil production. At Chesapeake, he amassed a shale empire that rivaled Exxon Mobil Corp.'s before he was dismissed amid conflict-of-interest probes and a shareholder revolt led by billionaire Carl Icahn.
"Aubrey created a lot of value," Pickens said. "Chesapeake was a pretty small outfit and it's a big company today."
At BP Capital, Pickens said he started to build up cash two months ago as he waits for more clarity on oil and gas prices, and specifically awaits the outcome of the Organization of Petroleum Exporting Countries meeting on Nov. 27.
Before it's here, it's on the Bloomberg Terminal.
LEARN MORE