New Super-PAC Attacks Roberts in Kansas
Independent Greg Orman is getting outside help as Republicans portray him as a Democrat in disguise.
By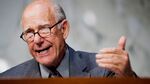 As Republicans rush to save Senator Pat Roberts in Kansas, a new super-political action committee is aiding independent challenger Greg Orman.
Roberts is "part of the Washington partisan mess" and Orman is a "bold, independent problem-solver," according to a television ad for Committee to Elect an Independent Senate, which organized as a super-PAC earlier this week with the Federal Election Commission. (Watch the ad here).
"Greg Orman: a businessman, not a career politician; a true independent to help small businesses and cut wasteful spending in Washington," a narrator says.
The super-PAC hasn't yet disclosed its donors or ad spending to the Federal Election Commission. Committee to Elect an Independent Senate spent $17,440 for 50 ads on Topeka's NBC affiliate between Oct 7-13, according to a filing with the Federal Communications Commission.
Phone messages left after working hours with the PAC and its treasurer, Thomas Layton, weren't immediately returned.
Roberts and his GOP allies have sought to puncture Orman's image as an independent in a generally Republican-leaning state that's elected only Republican senators for more than seven decades. Roberts repeatedly linked Orman to President Barack Obama and Senate Majority Leader Harry Reid during a debate Wednesday.
Super-PACs, which grew out of a series of federal court rulings and regulatory actions in 2010, can accept donations in unlimited amounts to pay for TV ads and other communications that can't be coordinated with or made in concert with candidates. Because their activity is limited to so-called independent expenditures, super-PACs also have little overhead and can organize quickly.
(Also on Bloomberg Politics: More Help On the Way for Kansas' Pat Roberts)