Lockdown in Southeast Turkey as Kurds Vent Kobani Rage
Selcan Hacaoglu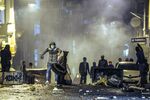 On Diyarbakir's main roads, Turkey's army is in charge, with soldiers and armed vehicles standing guard. Not far away, Kurdish youths have turned boulders and burnt-out cars into makeshift checkpoints, forcing drivers to slow down or slalom around them.
The main city in Turkey's largely Kurdish southeast has been under curfew for two nights. Kurds are protesting what they say is Turkey's failure to come to the aid of Kobani, a largely Kurdish town just across the border in Syria that's under siege by Islamic State militants.
The eruption of anger threatens Turkey's bid to end three decades of conflict with Kurdish groups seeking wider rights. The government says it's doing what it can to shelter refugees from Kobani and has condemned violence by protesters, saying peace talks with the Kurds can't advance without public order.
Violence flared again late yesterday. Two officers were killed in an attack on the police chief in the province of Bingol, and five more people died in a gunfight as security forces pursued suspects, according to local media. Another four were reported killed in fighting between rival groups in Gaziantep.
There were also clashes in western Turkey's main cities, including Istanbul and Izmir, and the capital Ankara. Interior Minister Efkan Ala said today that 31 people were killed and more than 350 injured across the country. Hurriyet newspaper put the death toll at 37.
In Diyarbakir, clashes persisted for a third night as the curfew was lifted. Police fired volleys of gas canisters into the narrow, cobbled streets where protesters gathered. In the shanty towns around the city, black smoke rose from burning tires, mixing with the light gray clouds of tear gas.
Bullets Flying
The Kurdistan Workers' Party, or PKK, which has led the Kurdish fight for autonomy in Turkey, has warned that the fall of Kobani would end a two-year-old peace process.
PKK supporters have fought with local Islamist groups accused of siding with Islamic State, as well as with the police. At least five Islamists were killed in Diyarbakir as gunfights broke out earlier this week, according to Seyhmus Tanrikulu, regional head of the pro-Islamist Huda-Par party.
"Bullets were flying in the air around my house last night," said Salih Aygun, 42, who works at a local gas station. PKK supporters are "trying to intimidate the government with violence," he said. "But we are terrified."
Building Boom
The pro-Kurdish People's Democracy Party yesterday called on Turkey to take steps to save Kobani, and also speed up efforts to make peace with the PKK, to avoid "even bigger troubles."
Yesterday's scenes, with hundreds of uniformed soldiers and Kalashnikov-wielding plainclothes forces lining the streets, recalled the worst years of Turkey's Kurdish war in the 1990s. Diyarbakir, a city of more than 1 million, was at the center of fighting between Turkish troops and Kurdish rebels from the surrounding countryside.
The outskirts of the city, where women bake bread in makeshift mud ovens, are still home to thousands of villagers displaced by the Turkish army's scorched-earth campaign against the rebels in those years. By contrast, downtown Diyarbakir has enjoyed a construction boom and is now full of high-rise buildings and shopping malls.
'Where's the Lemon?'
This week, the city center has lost its luster. Several automated teller machines have been firebombed and supermarkets have been looted by protesters, according to Aygun who lives in the Baglar district where Kurdish activists often take to the streets.
"Don't we have lemon? Where is the lemon," shouted a guard in a hotel lobby, as patrons climbed the stairs with eyes and skin burning from the tear gas. Lemon juice is used to ease the pain. Lights in the usually full kebab restaurant were dimmed as a safety precaution.
A coffee-shop owner, who only identified himself as Muhammed out of fear of reprisals, said he was "sick of clashes and chaos in Diyarbakir, which only make businesses lose money." Yet he foresaw more to come: "I saw the bodies two of Islamists being carried away for burial today. I'm afraid that now they'll seek revenge."
Before it's here, it's on the Bloomberg Terminal.
LEARN MORE