It's All About the Runoff in Louisiana Senate Race
The Louisiana senator shakes up her campaign team as an expensive December election looks inevitable.
By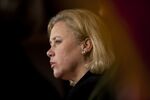 At the start of this cycle, if you asked any Democrat which of the endangered red-staters could endure a midterm challenge, they picked Senator Mary Landrieu of Louisiana. Elected in 1996 by fewer than 6,000 votes, Landrieu went on to grow her margin in the 2002 midterm (held at the apex of George W. Bush's popularity) and the 2008 general election (when she ran 12 points ahead of the Obama-Biden ticket). North Carolina Senator Kay Hagan had only ever had to run in the Obama wave, and Arkansas Senator Mark Pryor had not been seriously challenged since 2002, but Landrieu, theoretically, knew how to leave blood and teeth on the street. Landrieu did not waffle when asked if she would back another leadership term for Harry Reid. Landrieu, it seemed, had found a middle path on Obamacare, without apologizing for her vote.
And yet yesterday, Bruce Alpert broke the news that Landrieu had reshuffled her campaign staff. Her new manager will be Ryan Berni, who managed her brother's successful re-election mayoral campaign in New Orleans. (As Jason Horowitz reported in January, Republicans tried and generally failed to drive a wedge between the Landrieus and black voters in that race.) Her key Senate staff is helping out in the stretch; her former chief of staff, Norma Jane Sabiston, is now a senior adviser.
The official explanation, given to every reporter (myself included) is that Landrieu always brings in fresh ordnance at the end of the campaigns. That's not wrong, but up to now Landrieu had avoided headlines like "Senator replaces campaign manager" by not actually replacing her campaign manager.
This isn't happening as "late" as it seems. In 1996 and 2002, Landrieu only won re-election in the December runoffs. The players in Louisiana are now planning for one, with the conservative PAC Ending Spending reserving $2.5 million to drop the day after the November election. At no time in 2014 has Landrieu looked capable of cracking 50 percent of the vote and avoiding a runoff, and at no point in the last three months has she led a runoff poll against Representative Bill Cassidy, the colorless yet great-on-paper (he's a medical doctor) candidate favored by the party establishment.
Louisiana's also the unique state in which Tea Party division hasn't markedly hurt the GOP. Sarah Palin has led a wave of conservatives backing Air Force Col. Rob Maness (ret.), who labels his opponents "creatures of Washington." Yet Maness has shown no signs of closing in on the two frontrunners – he's serving, mostly, to make it harder for Cassidy to win in November, and to force a runoff. In the past, Landrieu's managed to turn out runoff electorates almost as large as the November electorates. In 2002, for example, 1,246,333 voted in the first round, and Landrieu only won 46 percent of the vote against a combined 51 percent for Republicans. A month later, 1,235,296 Louisianans turned out and voted to re-elect Landrieu.
Landrieu's new senior adviser helped win that campaign. Republicans had dubbed their effort "Operation Icing On the Cake," a bonus point that would give them 52 Senate seats. Democrats took to calling their win "Operation Pie in the Face." The Landrieu team of that year didn't have to contend with a gusher of outside conservative money on the air, and it was running in a much more competitive state, then still run by conservative Democrats. And the stakes in 1996 and 2002 were relatively low -- there was no chance of Louisiana voters flipping control of the Senate by backing or bucking Landrieu. In four weeks, the Landrieu team will know if it's going to have a pivotal race, and whether Georgia Democrats are fighting a decide-it-all runoff of their own. They've just braced themselves a little early.