politics
Grimes Doesn't Want to Say Whether She Voted for Obama in 2008 and 2012
Why? Take a look at the President's approval ratings.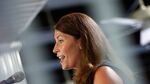 It's a seemingly simple question: Did you vote for President Barack Obama in 2008 and 2012?
If you're Alison Lundergan Grimes, running as a Democrat in a state where Obama's approval rating is 31 percent, it's apparently not so easy to answer.
Some video from her meeting Thursday with the Courier-Journal's editorial board, courtesy of Senator Mitch McConnell's campaign:


Before it's here, it's on the Bloomberg Terminal.
LEARN MORE