GE's Immelt Sees Asset Sales Into 2015 as Finance Shrinks
Richard Clough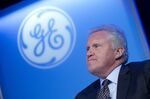 General Electric Co. Chief Executive Officer Jeffrey Immelt, with $4 billion in asset sales under his belt in 2014, will keep divesting business lines next year as he pursues his vision of a "preeminent infrastructure company."
"For me to say we're done with divestitures would be lying," he said in an interview yesterday. "We always are working to make GE Capital smaller. We're going to continue to push out the red assets. There may be small bits and pieces industrially, but we like where the industrial businesses are today."
Immelt agreed to sell the appliances division and is in the process of spinning off GE's consumer-lending unit as he steers the world's largest diesel locomotive and jet engine maker back to its industrial roots. While focusing on divisions such as aviation and oil and gas, he also is shrinking GE Capital, which imperiled the parent company during the 2008-09 global financial crisis.
The CEO has said he wants GE's high-margin industrial units to account for 75 percent of earnings, a goal he expects to achieve after completing the spinoff of the North American credit-card unit, known as Synchrony Financial, late next year.
"We're going to continue to sell platforms like we did with" Synchrony, said Immelt, 58, while working on a plate of pasta and greens in the lunch break at a conference in New York.
Light Bulbs
Immelt wouldn't specify what units could be sold, saying "we're still going through the planning process."
Analysts have pointed to areas such as the light-bulb business, which GE said in 2008 it would consider selling.
"GE has plenty more of assets that we believe it is planning to sell," Scott Davis, a Barclays Plc analyst in New York, wrote in a research report last month. "Lighting appears to be the obvious next candidate."
This week, the company appointed its head dealmaker, John Flannery, to run GE Healthcare, replacing John Dineen. Immelt said the move was not done with an eye toward selling.
"Health care is really core to what we're doing," he said. "We're always looking at all of our businesses to make sure they fit, to make sure they generate good returns for investors. But from where we are now, we see health care as pretty central to our strategy."
Flannery's appointment was the latest in a series of high-level management changes over the last year and a half that also includes Lorenzo Simonelli taking over the oil and gas business and Jeff Bornstein becoming chief financial officer.
"It's always good to stay vibrant; it's always good to get a new set of eyes on things," Immelt said. "A company like GE, you have to be willing to blow it up every 10 or 15 years just to stay on edge."
Before it's here, it's on the Bloomberg Terminal.
LEARN MORE