Fairway Board Pay Exceeds Apple, AT&T as Shares Drop 74%
Caleb Melby, Laura Marcinek and David Carey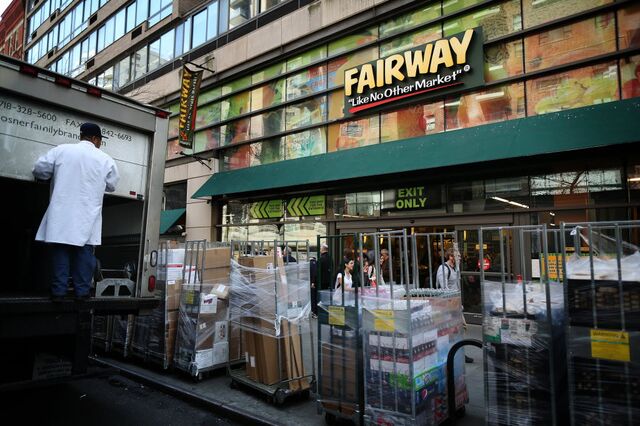 Fairway Group Holdings Corp., the New York City grocery chain that's plunged 77 percent since selling shares to the public, awarded its directors $12.1 million last year, making it the fourth highest-paid board in the Russell 3000 Index.
Charles Santoro, Fairway's executive chairman and co-founder of private-equity firm Sterling Investment Partners LP, which owned most of the company until its April 2013 initial public offering, was given stock, options and cash valued at $5.4 million in 2013, according to its June 26 proxy statement. Four other directors, including two Sterling partners and two former advisers, were granted $6.7 million.
Companies controlled by private-equity firms often don't pay partners directly who serve on the board. Fairway has paid Sterling more than $31 million for monitoring the company and overseeing transactions such as the IPO. The total granted to the Fairway directors is equal to the amount given to the combined boards of Apple Inc., Google Inc. and AT&T Inc., which have a aggregate market capitalization of $1.2 trillion. Fairway's market value is $132 million.
"It's an enormous number for a board," said Charles Elson, director of the John L. Weinberg Center for Corporate Governance at the University of Delaware. "The idea is that a board fee should be enough to retain someone's talent but not so much that they're completely linked to the job -- that you're fearful of challenging management and therefore losing the income."
Restricted Stock
Amy Weisman, director of business development at Sterling, referred questions to Fairway for comment when contacted by Bloomberg News. A spokesman for Fairway declined to comment beyond the public filings.
Fairway shares fell 9.6 percent to $3.03 in New York extending declines to 87 percent in the past 12 months. The Russell 3000 Consumer Staples Index gained 19 percent during the period, including reinvested dividends.
Santoro's pay included restricted stock and options valued at a combined $5.3 million when they were granted. The restricted stock was worth $1.24 million as of yesterday's close. The options had no value because the company's shares trade below their strike price. Most of the awarded compensation is related to the IPO, according to the filing.
While the value of Santoro's award has fallen, it's about as high as the median $1.25 million paid to entire boards in the Russell 3000, according to data compiled by Bloomberg. Santoro's award, when it was granted, was four times the median given to boards of companies in the Index, the data show.
Value Creation
"It's certainly a lot of money for directors that have not really directed any value creation," said Ivan Feinseth, director of research at Tigress Financial Partners, which has had a "sell" rating on Fairway shares since it first evaluated the company in July 2013.
Fairway's annual revenue is less than $1 billion, making it an "emerging growth company" under the Jumpstart Our Business Startups Act of 2012, according to its proxy statement, which means it doesn't need to hold Say-on-Pay votes or describe links between pay and company performance in regulatory filings.
Fairway filings show Sterling invested about $90 million to buy about 80 percent of the company in 2007. It then guided the company's real estate purchases for new stores, developed its management team, upgraded its financial systems and improved margins, according to Sterling's website. The company operates 15 stores in the New York City metropolitan area, including three Fairway Wines & Spirits locations, its quarterly report shows.
Cheapest Groceries
"It is trying to be a growth story, but is only able to open a handful of stores every year," Jennifer Bartashus, a Bloomberg Intelligence analyst, said in an e-mail. "Some of their real estate choices, while strategic, have been hung up by slower than expected development by real estate developers."
Fairway offers the cheapest groceries in Manhattan, and has more sale items than its competitors, according to a Sept. 3 report by Bartashus. Its earnings before interest, taxes, interest and depreciation margin of 1.2 percent compares to 9.26 percent for Whole Foods, which competes with Fairway in New York.
Sterling recouped $86 million in dividends and share sales in the IPO, retaining 81 percent voting control. Included in the $31 million in fees Fairway has paid Sterling is a $9.2 million payment to end its management agreement in connection with the IPO. Since its July 2013 high, the market value of Sterling's stake has dropped to $64 million from $602 million.
Whole Foods
Whole Foods Market Inc., the largest natural-goods grocer in the U.S., paid its board $2.2 million in the fiscal year ended Sept. 29, 2013.
Fairway's board pay trails only Regeneron Pharmaceuticals Inc., 21st Century Fox Inc. and Diamond Resorts International Inc. in the Russell 3000, according to data compiled by Bloomberg. Regeneron, the Tarrytown, New York-based maker of eye injection Eylea, paid its board $30.6 million, according to its proxy statement. It has a market value of $36 billion.
Rupert Murdoch's 21st Century Fox, the second-biggest media company in the U.S., paid its directors $16.3 million in the year-ended June 30, 2014, according to the company's proxy statement. That included $12.3 million given to board member and senior adviser David DeVoe.
Diamond Resorts
Diamond Resorts, which owns vacation properties on six continents, awarded its board $12.6 million, including $10.5 million to director Lowell D. Kraff, mostly because of its IPO. The Las Vegas-based company has a market capitalization of $1.7 billion.
Backed by Blackstone Group LP, Pinnacle Foods Inc. doesn't pay fees or award stock to Blackstone partners who are on its board. Blackstone bought Pinnacle, the maker of Vlasic pickles and Wish-Bone salad dressings, in 2007 and took it public in
2013. The company paid a $15.1 million termination fee to the world's largest alternative asset manager when the offering was completed, filings show.
The five members of Blackstone-controlled Hilton Worldwide Holdings Inc.'s board that are Blackstone employees didn't receive additional compensation for their service last year.
Dunkin' Brands Group Inc., which was taken public in 2011 by Bain Capital LLC, Carlyle Group LP and Thomas H. Lee Partners LP, also didn't pay fees to board members from the private equity companies that year, according to its first proxy statement following the IPO.
Sterling co-founder William Selden and partner Michael Barr each received $1.34 million, all except $37,500 of which was in stock awards. Farid Suleman and Stephen L. Key, former members of Sterling's senior executive advisory board, received $2 million each, $1.9 million of which was in stock, according to the filing. Both sit on Fairway's compensation committee.
Before it's here, it's on the Bloomberg Terminal.
LEARN MORE