Endo to Buy Auxilium for $2.6 Billion to Gain Men's Drugs
David Welch and Cynthia Koons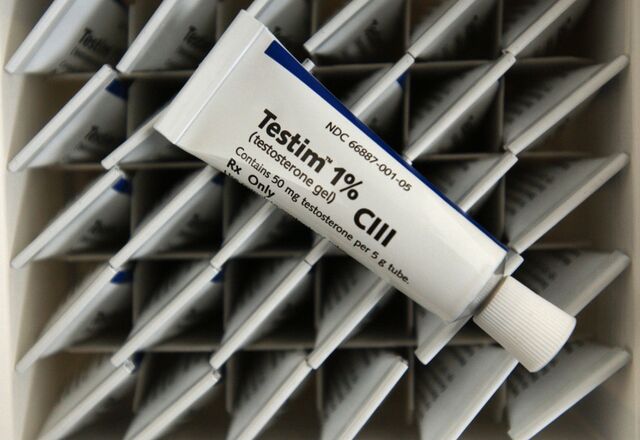 Endo International Plc agreed to buy Auxilium Pharmaceuticals Inc. for about $2.6 billion to gain testosterone products.
Endo will pay $33.25 a share, and Auxilium holders will be able to choose cash, stock or a combination of the two, the companies said today in a statement. The price is 55 percent above Auxilium's Sept. 16 value, when Endo announced that it wanted to buy the Chesterbrook, Pennsylvania-based drugmaker for $28.10 a share.
The purchase will add to Endo's offerings of branded pharmaceuticals. Auxilium's testosterone products include Testim, a topical gel, and Testopel, a pellet that is embedded under the skin. Last year they generated $271 million.
U.S. regulators have questioned the use of the testosterone drugs. An advisory panel to the Food and Drug Administration said last month that the medicines needed further study for their heart risk, especially as their use has widened.
Auxilium shares rose 9 percent to close at $32.44 in New York, while Endo fell 5.9 percent to $66.78.
Endo's strategy is similar to that of Valeant Pharmaceuticals International Inc. Valeant has grown by buying smaller companies for their product lines. Valeant has acquired $4.4 billion worth of companies since the beginning of last year and uses its low tax rates to improve profit.
Tax Moves
After making acquisitions, Endo then tries to cut research and development spending by focusing on lower-cost, lower-risk drugs, Endo Chief Executive Officer Rajiv De Silva said in a phone interview.
"We do believe we are more efficient that others," De Silva said. "We believe in low-risk R&D."
As part of the sale to Endo, Auxilium canceled a previously agreed plan to shift its legal address to Canada, a maneuver known as "inversion," by purchasing QLT Inc., a Vancouver-based biotechnology company, for $345 million in stock.
Auxilium is the second company to drop inversion plans since the U.S. Treasury Department last month issued new rules to discourage the transactions. Salix Pharmaceuticals Ltd. dropped an inversion plan on Oct. 3. Seven other companies are currently pursuing such deals.
The sale to Endo allows Auxilium to get the tax benefits of having a parent company incorporated abroad, without having to contend with the new Treasury rules. Endo, although run from the U.S., has been incorporated in Ireland since completing an inversion earlier this year.
Before it's here, it's on the Bloomberg Terminal.
LEARN MORE