Preparing for Ebola in the U.S. Without Panicking
By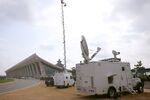 Sometime in the next few weeks, expect to see a breaking news headline about a traveler quarantined at a U.S. airport with a possible case of Ebola. TV trucks will congregate; reporters will scramble to interview other passengers from the flight. Because doctors must send samples to a lab to confirm Ebola diagnoses, no one will know immediately whether the isolated traveler—perhaps a tourist or business executive, maybe a returning aid worker—actually has the virus.
Following the death of the Liberian man who developed Ebola symptoms after arriving in the U.S., officials announced new screening measures this week. The question is how to reassure the public without inciting panic.
Centers for Disease Control Director Tom Frieden acknowledged that new screenings of arriving travelers have the potential to alarm. "It's going to find people with fever or contact [with Ebola patients] who don't have Ebola," Frieden told reporters on Wednesday. "We expect to see some patients with fever, and that will cause some obvious and understandable concern at the airports."
Malaria, of course, is a common mosquito-borne disease in West Africa that also causes intermittent fever. Frieden said that almost all of the travelers attempting to leave Guinea, Sierra Leone, or Liberia who've been kept from boarding because of fever turned out to have malaria; none so far had Ebola.
Frieden warned against overreactions that could backfire. He cited the SARS outbreak of 2003, which is estimated to have cost the world economy $40 billion. "Those were costs from unnecessary and ineffective travel restrictions and trade changes that could have been avoided," he said.
Melinda Moore, a former CDC epidemiologist who's now a researcher at the RAND Corp., says the extra screening of a relatively small number of travelers may increase protection without being too intrusive. And Americans should avoid panicking: "You're going to be hearing calls from people in the media, including high-profile political figures, calling for things that really don't make sense," Moore says.
The headlines about Ebola appear to have spooked Americans out of proportion with the domestic risk. An Oct. 7 Gallup poll found that 22 percent of people in the U.S. are worried about getting Ebola, which has infected six Americans, all in West Africa. About the same percentage worried about getting the H1N1 flu virus in 2009, which infected at least 14 million Americans.
Moore says a neighbor of hers in Maryland recounted that some people at church had stopped shaking hands with other worshipers because of worries about Ebola. Such responses may do more to spread fear than to protect health. "If you have a lot of people who are overreacting," she says, "I think that's going to put us all on edge unnecessarily."
Before it's here, it's on the Bloomberg Terminal.
LEARN MORE