Ebola Cleanup in Dallas Includes an Incinerated Hospital Bed
By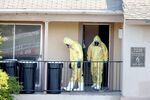 Cleaning out the Dallas apartment that hosted the first person in the U.S. infected with Ebola required two days of labor by about 15 employees working overtime. The cleaning process involved about 140 55-gallon drums.
"We haven't trained specifically for Ebola," says Erick McCallum, owner of Cleaning Guys, the hazardous-materials cleaning company that did the job. "But I mean, who would? I mean, it's never been here in the States."
Thomas Eric Duncan, the first person diagnosed with Ebola in the U.S., had traveled from West Africa to Dallas with plans to marry his girlfriend. He was hospitalized on Sept. 28 and died on Wednesday.
In addition to cleaning the apartment at which Duncan's family lived, Cleaning Guys was also hired to disinfect the hospital room where Duncan died. Almost everything was removed: "Not the machinery itself," McCallum explains, "but all the parts associated with the machine." The hospital bed will be incinerated.
To tackle the apartment, McCallum's crew wore Level B HazMat suits with filtration masks. "Everything was thoroughly neutralized numerous times," McCallum says, so that "any form of bacteria or biological was killed." Everything inside, including the carpet, was then removed, triple-bagged, and placed in the drums, and the space was neutralized again. The drums will be placed inside additional vessels and transported by a second company to an undisclosed location, where the contents will be incinerated.
Duncan's family is staying at a private home provided by an anonymous donor, according to Dallas's ABC affiliate. "The city and county has been working very hard to put this family in a safe location," Dallas City Spokesperson Sana Sayed says, "and it has been tough because no one wanted them."
So far, Duncan is the only reported Ebola death in the U.S. In West Africa, about 4,000 people have been killed by the disease.
Before it's here, it's on the Bloomberg Terminal.
LEARN MORE