Dollar Effect Seen in U.S. Stocks Pre-Earnings: Chart of the Day
David Wilson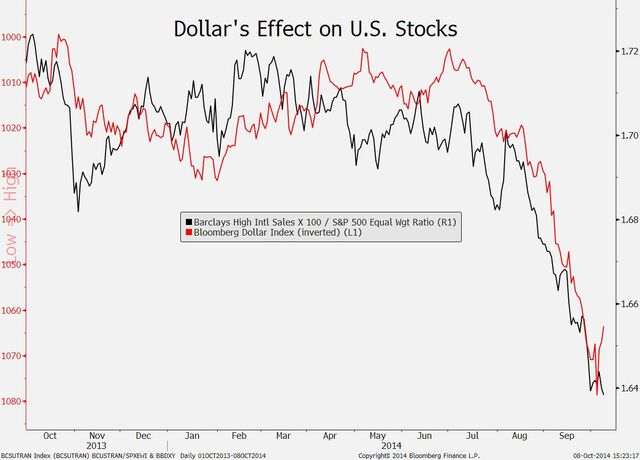 Declines among shares of companies most dependent on overseas revenue may limit the effect of any third-quarter earnings disappointments, according to Jonathan Glionna, head of U.S. equity strategy research at Barclays Plc.
The CHART OF THE DAY tracks the ratio of the Barclays High International Sales Index, a newly created gauge of 39 stocks weighted equally, to a version of the Standard & Poor's 500 Index that's based on a similar calculation method.
Since July, the ratio has fallen 4.1 percent as the dollar has climbed, making U.S. goods more costly to overseas buyers and cutting the dollar value of sales and earnings in other currencies. The chart displays the Bloomberg Dollar Spot Index, reflecting the value of the U.S. currency against 10 other currencies, on an inverted scale for comparison.
"Performance has been worse for companies with high international exposure" than for U.S. stocks overall, Glionna wrote. "This should blunt the implications" of the companies' failing to meet analysts' revenue projections or giving less optimistic forecasts, the New York-based strategist wrote.
Analysts estimate that S&P 500 revenue rose 4.1 percent last quarter, according to figures compiled by Bloomberg from company-specific predictions. They expect earnings to increase by 4.9 percent.
Glionna cited three themes for this earnings season: possible capital-spending cutbacks by energy companies after a drop in oil prices, a rebound in stock buybacks after a second-quarter slump, and the stability of near-record profit margins. He expects the S&P 500 to end the year at 1,975, up 0.3 percent from yesterday's close.
Before it's here, it's on the Bloomberg Terminal.
LEARN MORE