Dim Sum Yields Rise Toward Shanghai's on Opening: China Credit
Kyoungwha Kim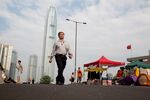 Borrowing costs in Hong Kong's Dim Sum bond market are climbing toward levels in Shanghai as the opening up of China's capital markets makes it easier for global funds to buy higher-yielding assets onshore.
The average yield on yuan-denominated debt in Hong Kong rose 28 basis points in the past month to a one-year high of 4.28 percent on Oct. 7, according to the Deutsche Bank S&P/DB ORBIT Index. Chinese government bonds due in 2021 yield 30 basis points less in Hong Kong than Shanghai, down from a three-month high premium of 67 basis points on July 18.
While Hong Kong protesters have barricaded streets seeking faster political reform, China has been pushing ahead with looser restrictions on the flow of capital from world financial hubs to promote greater global use of yuan. Quotas totaling 640 billion yuan ($104 billion) have been granted to invest offshore yuan in domestic securities and a trading link between the Hong Kong and Shanghai stock markets will start this month.
"The tightening of yuan liquidity in Hong Kong has a lot to do with the opening up of domestic markets," said Becky Liu, a strategist at Standard Chartered Plc in Hong Kong. "Existing Dim Sum bond investors already have choices in onshore and offshore securities and by trading offshore positions for onshore ones they can get yield pickups of more than 100 basis points."
Liu said she is "quite bullish" on domestic bonds and shorter-dated Dim Sum will be hardest hit.
Rates Volatile
The one-year interbank offered rate for yuan in Hong Kong jumped 17 basis points in September, the most since July 2013, and has remained near the 14-month high of 3.35 percent reached on Sept. 22. Renminbi deposits in Hong Kong totaled 936.8 billion yuan at the end of August, unchanged from July, official data show. The holdings fell 23.1 billion yuan in the May-August period after climbing 99.43 billion in the first four months of this year.
Premier Li Keqiang is expanding quotas for onshore securities investments and a year ago set up a free-trade zone in Shanghai. The exchange link between Hong Kong and Shanghai will allow a net 23.5 billion yuan of daily trading.
"Offshore rates are likely to remain volatile for at least a few weeks after the cross-border stock connect starts," said Crystal Zhao, a credit strategist at HSBC Holdings Plc. in Hong Kong. "There will likely be a net withdrawal from yuan liquidity in Hong Kong. If that materializes, Dim Sum will be pressured."
Street Protests
The yuan in Hong Kong slid 0.4 percent last week, the most since April, as tens of thousands of students poured onto streets calling for free elections and leading to clashes with police who used tear gas to disperse crowds. The currency snapped a four-day advance today, falling 0.1 percent to 6.1412 per dollar, as the government canceled talks with the pro-democracy protesters after leaders of the movement called supporters back onto the streets.
The conflict adds to worries about potential weakness in the yuan as China's economy cools and the prospect of U.S. interest-rate increases boost the dollar. Gross domestic product is forecast to expand 7.3 percent this year, the slowest pace since 1990, according to the median estimate in a Bloomberg survey.
The yield on 10-year onshore sovereign bonds slid 25 basis points last month to 3.98 percent, driven by monetary policy easing, and was 4 percent on Oct. 9. The People's Bank of China injected 100 billion yuan into each of the nation's five biggest commercial banks and lowered the rate it pays on 14-day repurchase agreements last month, before a week-long holiday that began on Oct. 1.
Resignation Call
Hong Kong student leaders urged protesters in a televised briefing yesterday to camp out in the city's business area, repeating a demand for Chief Executive Leung Chun-ying to resign and raising more pressure on the government.
"Unless there are some more intense conflicts, any drastic impact on the markets is unlikely," said Jason Liu, a fund manager at Value Partners Concord Asset Management Co. in Taipei, which oversees about $39 million. "U.S. rates are going up, but China's onshore liquidity is still sufficient. If onshore yields fall, offshore yields will also be affected."
The yield on 2021 China's sovereign notes in Hong Kong has risen 13 basis points to 3.69 percent on Oct. 9, from a nine-month low on Aug. 26. The similar-maturity rate in Shanghai fell 20 basis points in the period to 3.95 percent.
Record Supply
Dim Sum debt sales climbed to $4.7 billion in September, the most since May, bringing 2014's issuance to a record $32 billion and topping the $17 billion for all of 2013, data compiled by Bloomberg show. China is expected to offer 12 billion yuan of sovereign bonds in Hong Kong in the next couple of months, adding to the supply, HSBC's Zhao said.
She recommended on Sept. 30 selling Baosteel Group Corp.'s 2016 notes, whose yield rose to a one-year high of 3.75 percent on Oct. 7, and buying China Uranium Development Co.'s 2015 bonds. Zhao also predicted further price declines for 2017 securities sold by Beijing Capital Hong Kong Ltd.
"This year's supply is huge," said Steve Wang, head of fixed-income research at BOCI Securities Ltd. in Hong Kong. "Renminbi deposits have slowed down and yuan gains are taking a breather as well. Dim Sum yields are expected to be mostly stable for the rest of the year with a rising bias."
Before it's here, it's on the Bloomberg Terminal.
LEARN MORE